Bring a little Halloween fun into your home with a kid friendly project making Halloween sugar cookies! If you enjoy decorating gingerbread houses each year, you are going to love this healthy sugar cookie recipe at Halloween!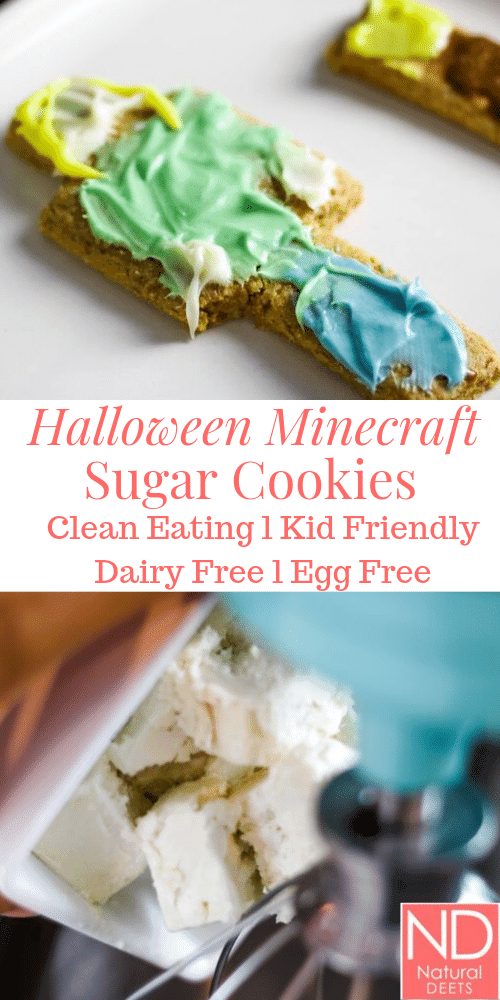 Have your kids discovered Minecraft yet? My kids are obsessed! Minecraft was released in 2009 and is still the #1 downloaded game…so if your kids haven't heard of it yet, just give it some time.
For my daughters 8th birthday, I made her an ender dragon cake and for Halloween that year, she was the Ender Dragon! This year my son had a Minecraft party…so our infatuation runs deep!
So, it's only fitting that we would make some clean eating Minecraft sugar cookies for Halloween! These cookies are made with one of my favorite sugar cookie recipes!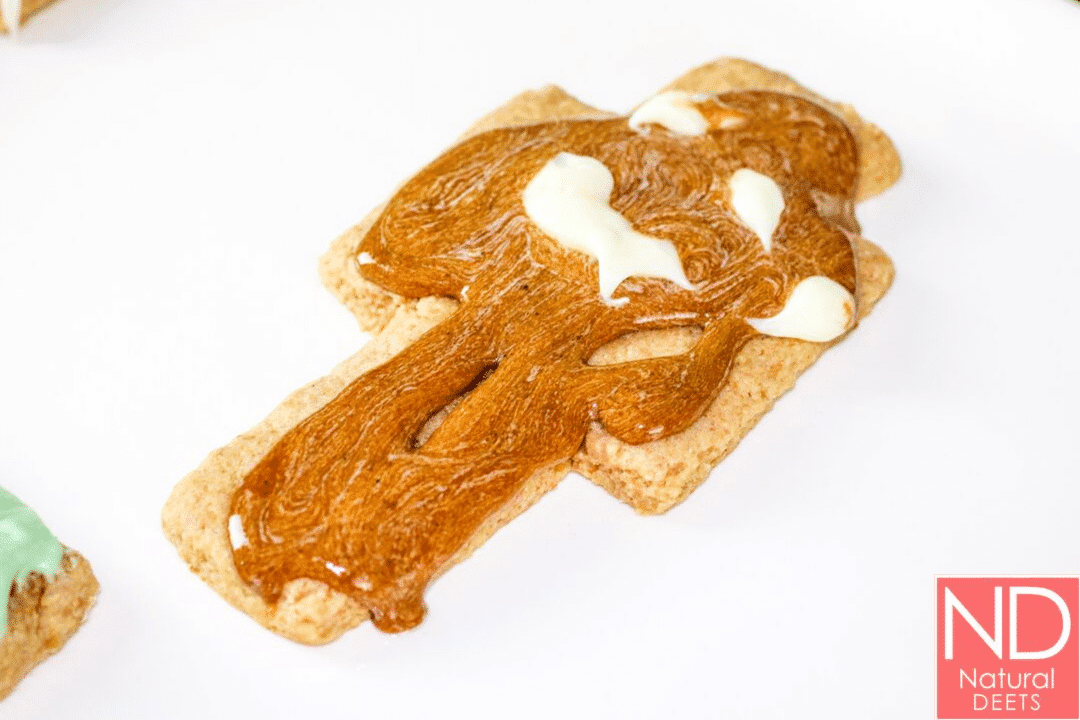 Minecraft Red Panda Sugar Cookie Decorated by a 6 year old
We really love decorating gingerbread houses so we thought this would be fun too! We usually buy those fabulous pre cooked/pre cut gingerbread houses (since we don't eat them anyway). So this activity required a little more prep since we actually had to make the cookies this time.
Just In Time For Minecon Live!
We love Minecraft year round, but we were especially excited to make these because of Minecon Live! What is Minecon Live? It is a 90 minute live feed of all things Minecraft.
From exclusive news and games, to watching people play the game, it's everything (and more) that you wanted to know about Minecraft. And these Minecraft cookies are a perfect addition to the party!
What Are Halloween Activites?
There are so many Halloween activities that you could do with the kids. Our favorites actually include making Halloween decorations. In fact, it is the only time that we pull out the Cricuit machine!
Our second favorite activity is cooking. Most of the food we make doesn't end up on the blog but we like to play around with some Halloween ideas. Halloween is the best time to experiment becuase even if it doesn't turn out the way you want it to, you can claim that it is what you intended 🙂
Healthy Sugar Cookie Recipe
This healthy sugar cookie recipe is a favorite around here. Last year my kids tasted their first real sugar cookie and started asking me to make it for them. So I realized I had to figure out how to make them healthier!
The first step was to remove the sugar…and that was a feat! We substituted the sugar with honey and the white flour with white whole wheat flour. It tasted delicious but it still needed a little more.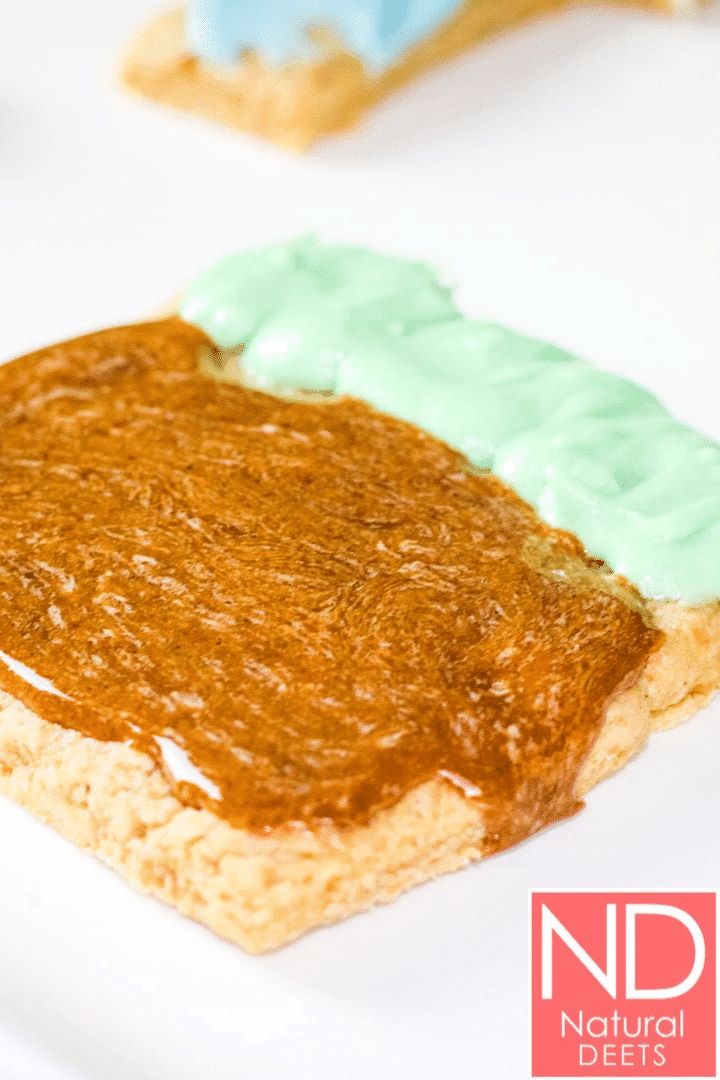 Minecraft Red Panda Sugar Cookie Decorated by a 6 year old
That's when we reached for the lemon essential oil and it ended up making all the difference! Here are the changes we made:
Honey in Place of Sugar – Once you get used to baking with honey, regular sugar will be too sweet. Honey adds a sweetness that isn't overpowering. It also adds a nice light flavor to the cookies. In addition, honey has a slower sugar release than white sugar so there isn't a sugar crash. It is also great for gut health, sore throats and may improve cholesterol and lower blood pressure.
White Whole Wheat Flour in Place of All Purpose Flour – All purpose flour is considered a processed food. The outside of the wheat (with the nutrients) has been removed and often times the flour has been bleached to give it a white color. White whole wheat flour is basically the same as whole wheat flour. The wheat husks are still on when the flour is made, it is just made with a different variety of wheat.
We Also Added Spelt Flour – Spelt is healthy and we use it in this recipe to keep the cookies from being too dense. Spelt is easier to digest making it a popular choice for many with gut issues. It also contains iron, calcium, magnesium and a whole host of other nutrients. It's also cheaper than some other flours!
Flax Egg – Flax eggs are made by mixing 1 Tablespoon of ground flax seed with 3 Tablespoons of water. Just mix it in a bowl and let sit for 5 minutes. The kids are reactive to eggs so we avoid it when they are sick. The flax egg is the perfect substitution and also adds some flax to their diet!
Vegan Butter – The kids are also reactive to dairy, so we avoid real butter. We like to use Miyoko's butter becuase it is made from coconut oil. Most other butter substitues are filled with hydrogenated oils and other things we can't pronounce. If you are eating butter, feel free to use the real thing!
Are Essential Oils Safe For Cooking?
In this recipe we used 3-4 drops of lemon essential oil. There are several essentail oil brands that I like but when it comes to cooking, I only trust Young Living.
Minecraft Alex decorated by 9 year old
Not all oils can be safely ingested (and not all are safe for kids). Young Living specifically makes their lemon oil safe for ingestion. You can read more about it on the Young Living site.
Since we are cooking these cookies, I'm not sure how much of the essential oil benefits are retained in the food. But it is an easy way to add some extra dimension to the cookies!
Why Do Sugar Cookies Spread When Cooked?
These soft and chewy healthy sugar cookies are delicious without frosting…I actually prefer them plain. But in this Halloween activity, we are going to be decorating them in to Minecraft pictures. So we need them to hold their shape when they cook.
Just like traditional sugar cookies, the trick is to keep the dough cold. If the dough is lukewarm, the butter will start melting in the oven before the cookie has a chance to cook. That will cause the cookie to lose it's shape and spread.
Another less obvious culprit is Baking Powder. Many sugar cookies call for baking powder and adding too much can cause the dough to spread. In this recipe we do not use baking powder and instead rely on baking soda.
Minecraft Characters and Items
So, even if your kids play Minecraft, you may not be familiar with all the Minecraft characters and items. Even I had to look them up before the party to see what the kids were requesting!
When you make these cookies, you will want to cut them into the Minecraft shapes before baking them. The good news is that everything it made out of squares, so it is relatively easy to do with a dough scraper or butter knife.
People – Steve, Alex, Villagers
Torch
Blocks – Grass, Ice, Diamond, Gold, Dirt, Obsidian, Granite, Quartz, Iron
Buckets – Water, Lava
Animals – Pig, Sheep, Cow, Wolf, Chicken, Cat, Ocelot, Parrot
End World/Nether – Enderman, Enderdragon, End Stone, Nether Rack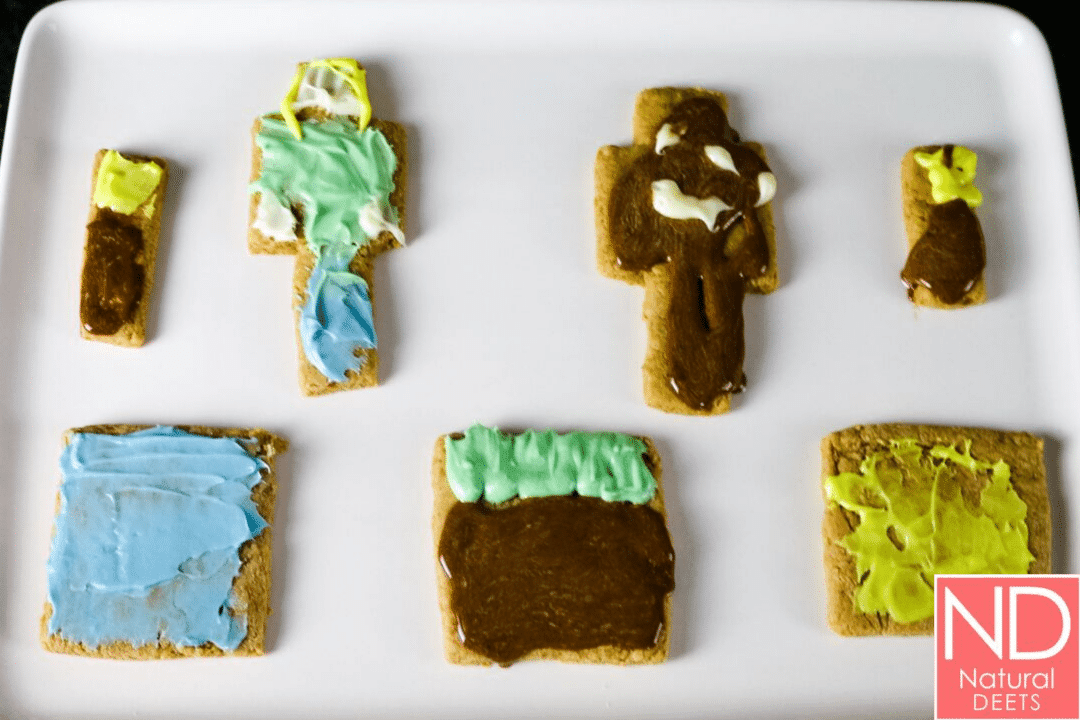 One Last Word on Clean Eating Frosting
I have tried so many recipes for clean eating frosting and have not had much luck. In my latest efforts, I made powdered sugar from coconut sugar but it didn't dissolve properly and made the cookies too sweet…that's the brown liquidy frosting in the video.
We ended up using some store bought vanilla frosting from Simple Mills and adding natural food coloring. I'll continue trying to find one that works!
COOKING CLASSES FOR KIDS – CLEAN EATING & KID FRIENDLY TOO:
As always, grab the kids and get them involved! Here are just a few things they could learn from making this recipe with you!
How to make cookies with honey and whole wheat flour
How to use a blender
How to measure essential oils
How to roll out cookie dough with a rolling pin
How to preheat an oven
How to bake cookies
Looking for an online cooking class designed to teach kids real kitchen techniques? Check out our Apricot Kids course. Click HERE for the Deets!
LOOKING FOR More halloween recipes? TRY THESE:
Cashew Cookies – Spooky Halloween Cookies
Healthy Halloween Party Food For Kids – Make it A Party to Remember!
4 Bootastic Halloween Party Food For Kids! – Clean Eating
Halloween Essential Oil Blends – For Spooks and Fun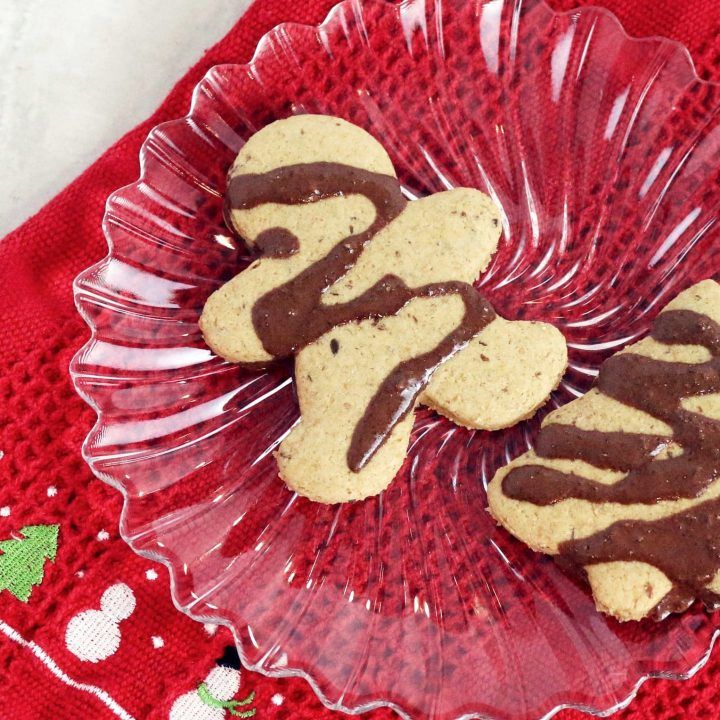 Healthy Sugar Cookies
Stop searching for a healthy sugar cookie recipe. This is the one! Soft and Delicious, these are sure to become a favorite!
Ingredients
5 Tbsp Butter, Vegan
1/4 Cup Honey
1 egg flax egg or regular egg
3 drops Lemon Essential Oil, Optional
1 Cup White Whole Wheat Flour
1/2 Cup Spelt Flour
1/4 tsp Salt
1/4 + 1/8 tsp Baking Soda
Instructions
Preheat the oven to 350° F
In the bowl of a stand mixer beat together the honey and butter (you can use a hand mixer too). Mix until smooth, about 2 minutes
Add the flax egg and lemon essential oil
Add the remaining ingredients and blend until well combined.
Roll out the dough on a lightly floured surface to about 1/8 inch thickness. I like to roll it between Silpat and a piece of parchment paper. You could also use two pieces of parchment paper.
Cut out the cookie shapes and bake for 6 minutes. Bake until cooked but not brown.
Nutrition Information:
Yield:

12
Serving Size:

12 Servings
Amount Per Serving:
Calories:

118
Saturated Fat:

3g
Cholesterol:

13mg
Sodium:

130mg
Carbohydrates:

17g
Fiber:

2g
Sugar:

6g
Protein:

2g
Looking for more? Here are some of our recent posts!
By