We could all use a handful of weeknight meals that take 30 minutes or less! And these delicious stuffed pork chops belong in that category!
Now this is one of those Ugly-Delicious recipes. Where the dish is ugly, and it photographs bad…but it tastes so delicious!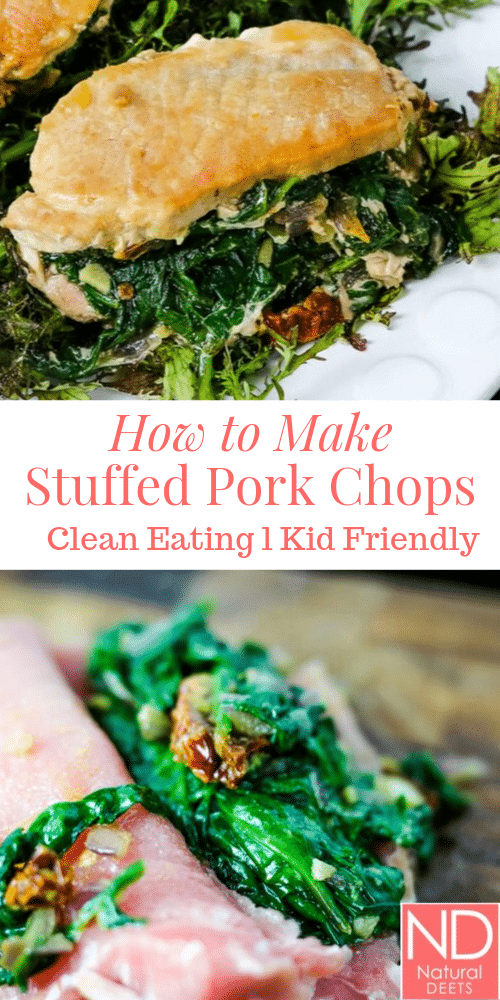 They are stuffed with sauteed garlic, onions and spinach…I mean, how can you go wrong??
…you can't 😉
Fall Dinner Ideas
There is a chill in the air and the streets are lined with yellow leaves…the stores have Halloween decorations (some have Christmas ones!) and I have had to pull out the rain coats. It's official…fall is here!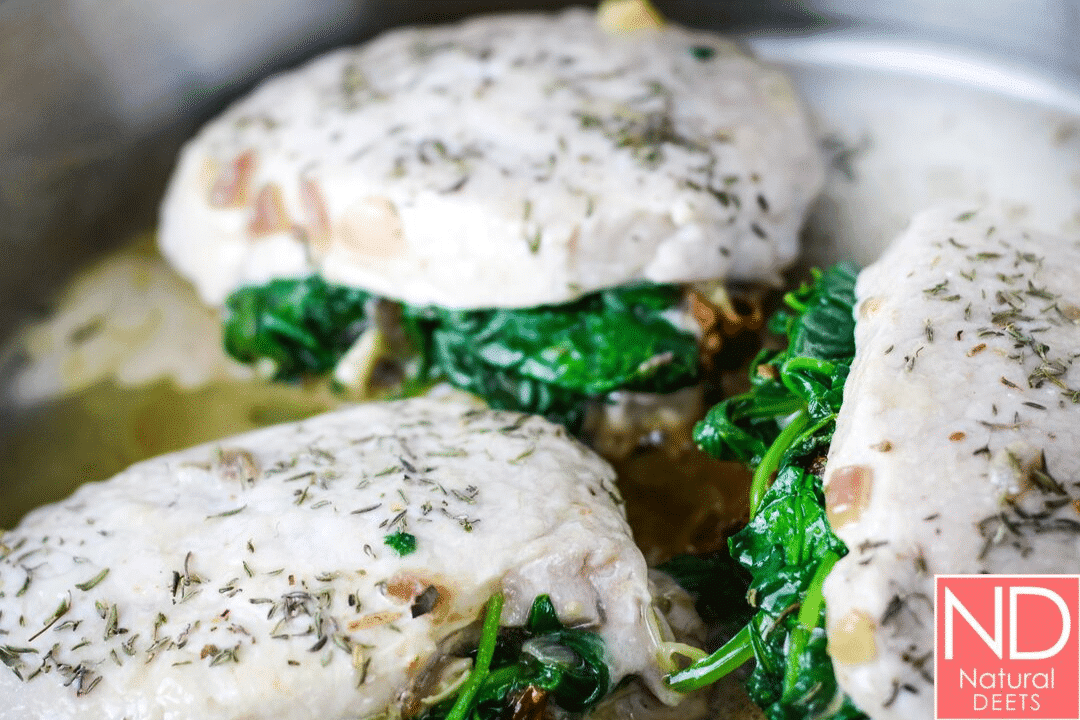 What better way to embrace fall than to indulge in some delicious, crispy stuffed pork chops?? These pan fried pork chops have a golden, crispy crust that makes it even more unforegettable!
How To Fry Pork Chops
Pork chops are notorious for being dry and flavorless. In fact, I never serve them to guests because when they turn out bad, they are almost inedible. When I was learning to cook, we used to eat pork chops with ketchup because they were so bad! Fortunately for my family, I have gotten better at cooking pork chops.
The secret in our house is to pan fry the pork chops. Pan frying gives the pork a nice sear and add a delicious, savory flavoring to the pork chops. It's an easy way to add some flavor to an otherwise flavorless piece of meat!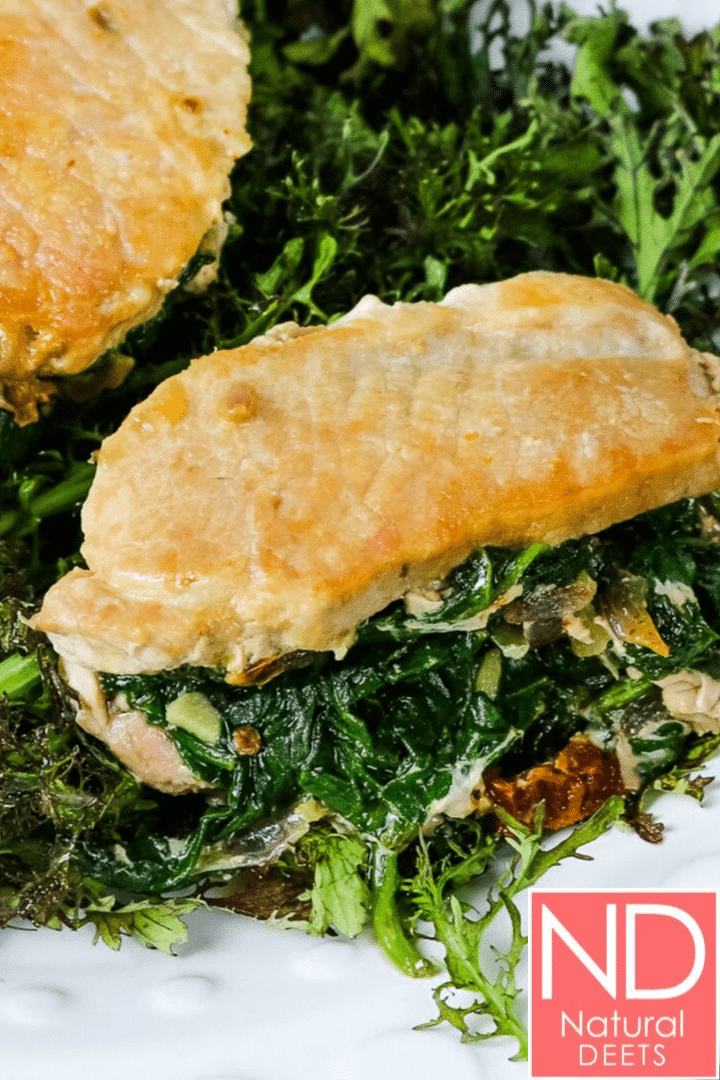 There are a few secrets to pan frying your pork chops that will guarantee you better results than just throwing them in a pan with some salt. Let me share them, in no particular order:
How to Cook Pork Chops
Tip #1: Let them rest before cooking
Take your pork chops out of the fridge about 20-30 minutes before cooking to take the chill off the meat. This is actually a tip for pork and beef. Bringing it to room temperature first will ensure that it cooks evenly and it will help to give you that golden brown color without drying out the meat.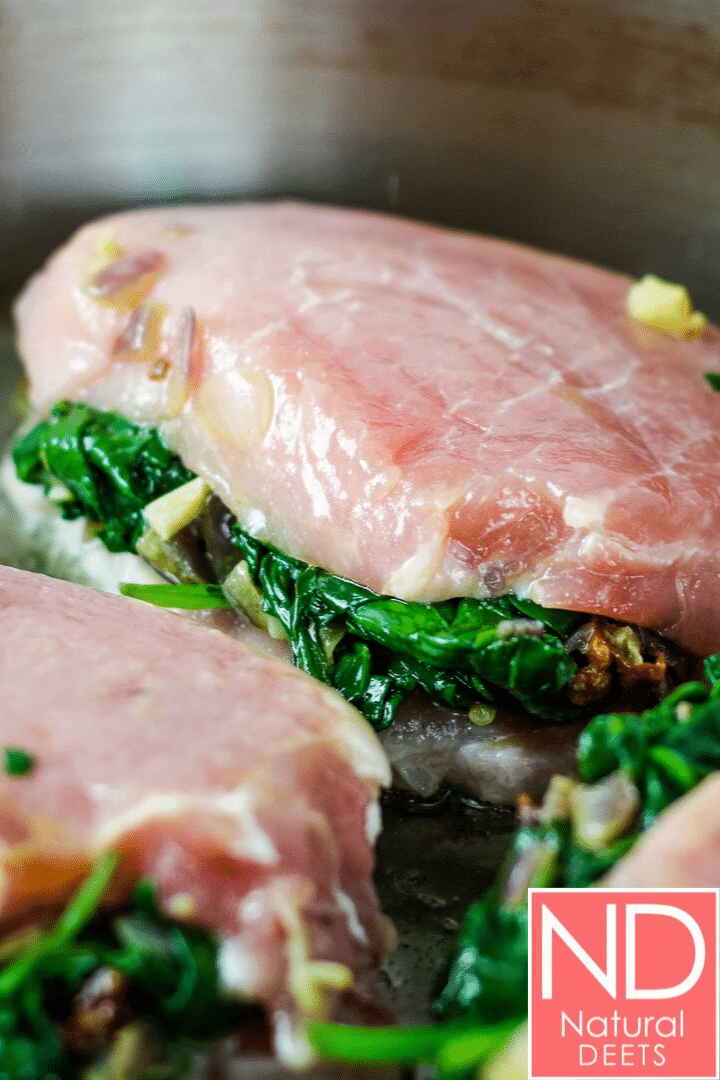 The golden crust that make pork chops so delicious, can only be achieved once the moisture is drawn out of the outside of the meat. By bringing it to room temperature and taking the chill off the meat, you allow any liquid to rise to the surface. After letting the meat sit out for 20-30 minutes, pat it with a napkin to absorb any moisture on the surface.
Tip #2: Season The Pork Ahead Of Time
Salt the pork chops about 10 minutes before cooking to allow the salt to absorb in to the pork chop. This will add extra flavor to the meat and will also help to draw out excess moisture.
If you pat the meat before cooking (see tip #1), you may want to resalt it before adding it to the pan
Tip #3: Cook Just To An Internal Temperature of 145°
Per the USDA guidelines, pork chops only need to be cooked to an internal temperature of 145° Fahrenheit. When you first check on the pork, you will think that it is still too pink.
However, per the USDA, it is ok to eat slightly pink pork. Once it reaches 145°, take it out and let it rest on a cutting board for another 10 minutes. Part of the reason pork chops are so dry is because most of us overcook it. Even I need to use the thermometer, or I will over cook it.
The first time I remember reading about pink pork was in a Martha Stewart cookbook (back before recipes were online!) and I was shocked to read it, but it was one of the best pork chops I had ever had!
Tip #4: Season Liberally
Be sure to season your pork chop properly. Pork chops are notorious for having no flavor. In this recipe we are stuffing it with spinach sauteed in onions and garlic, which adds flavor, but that is not always the case.
Anytime you cook with pork, be sure to season liberally. We like to use salt, pepper and thyme, but pork has such a mild flavor that you could just use your favorite herb or spices. In fact, try it with some cayenne at least once!
Tip #5: Sprinkle a Little Flour On It – Give It Some TLC!
Before we started clean eating, a sprinkle of white flour and brown sugar was my go to. But now that we are eating clean, I use a sprinkle of white whole wheat flour.
And when I say a sprinkle, I mean it! It really is just a light dusting of flour. We are not going for a crust here…we are simply trying to give the oil something to brown on the pork chop. You should barely be able to see it on the raw pork chop.
How To Make Stuffed Pork Chops
When I was in cooking school, I had a chef tell me that each component of a dish should taste delicious. And that statement still plays in my head each time I cook.
Even my kids can recite it!
Making stuffed pork chops is no exception. The filling should be just as delicious as the pork chop itself. Then when it all comes together…Magic!
Make The Filling For the Pork Chops
I was making this dish with the kids, so I wanted to keep it simple. It had to be something that the kids could make with me…and something that they would eat!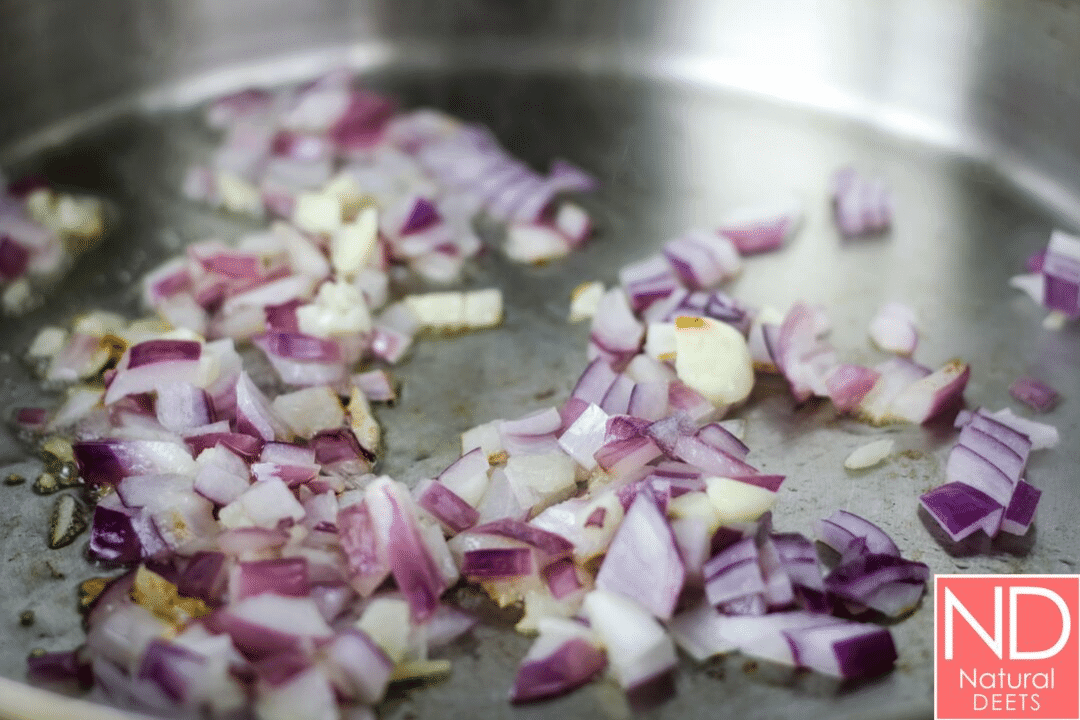 So we started with some minced garlic and chopped onions. First heat about 3 Tablespoons of olive oil in a saute pan over medium high heat. Then add the garlic and onions and saute until it is just starting to turn brown.
Cooking Tip: How to Peel Garlic
There are so many devices that you can buy to peel garlic, but you already have everything you need to make it easy!
Just place the garlic clove on a cutting board. Then place the flat side of your knife over the garlic clove.
With a quick motion, push your palm on the top of the knife, slightly crushing the garlic. This will make the garlic peel separate from the clove. Just remove the peel and start chopping!
Once the garlic and onions are sauteed, add the spinach and saute a few more minutes until the leaves are wilted.
We added sun dried tomatoes and Nutritional Yeast for a little more flavor. If you are not avoiding dairy, fresh mozarella would be delicious too. I buy sun dried tomatoes from Trader Joes and they come in olive oil but when I buy them at the grocery store, they are often dried. Either will work in this recipe.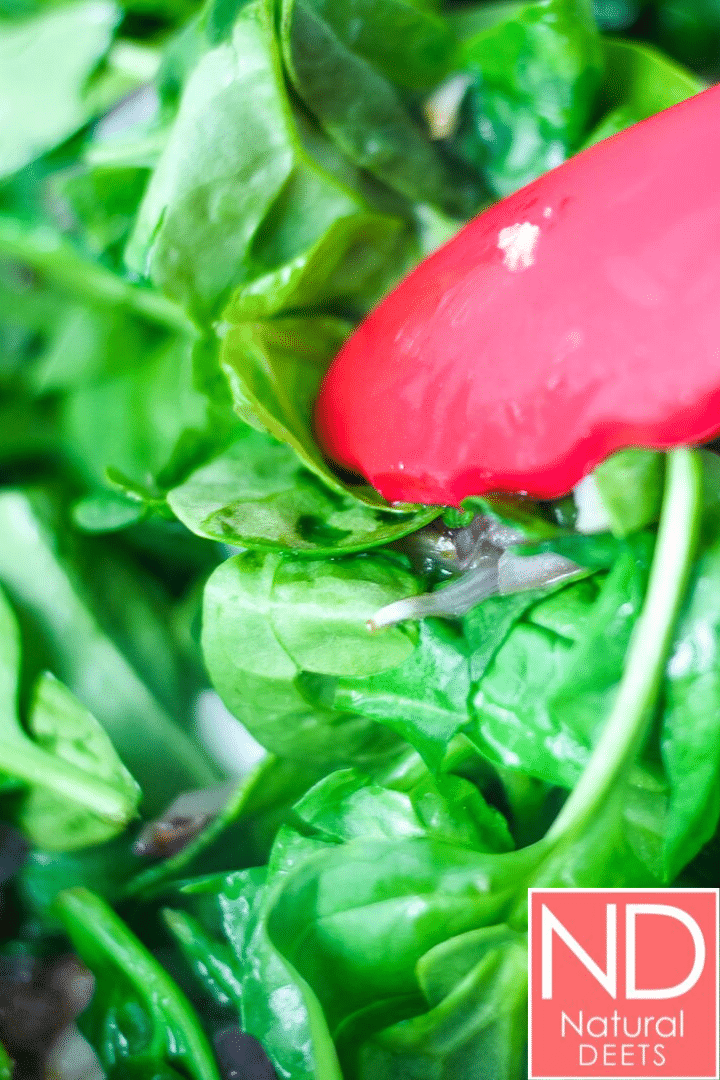 Once you add the tomatoes and Nutritional Yeast, remove the pan from the heat and season with salt and pepper.
Next, place the pork chops on a cutting board and cut them in half lengthwise, being sure to leave one side attached. We want to create a pocket rather than cutting the pork chop into 2 pieces.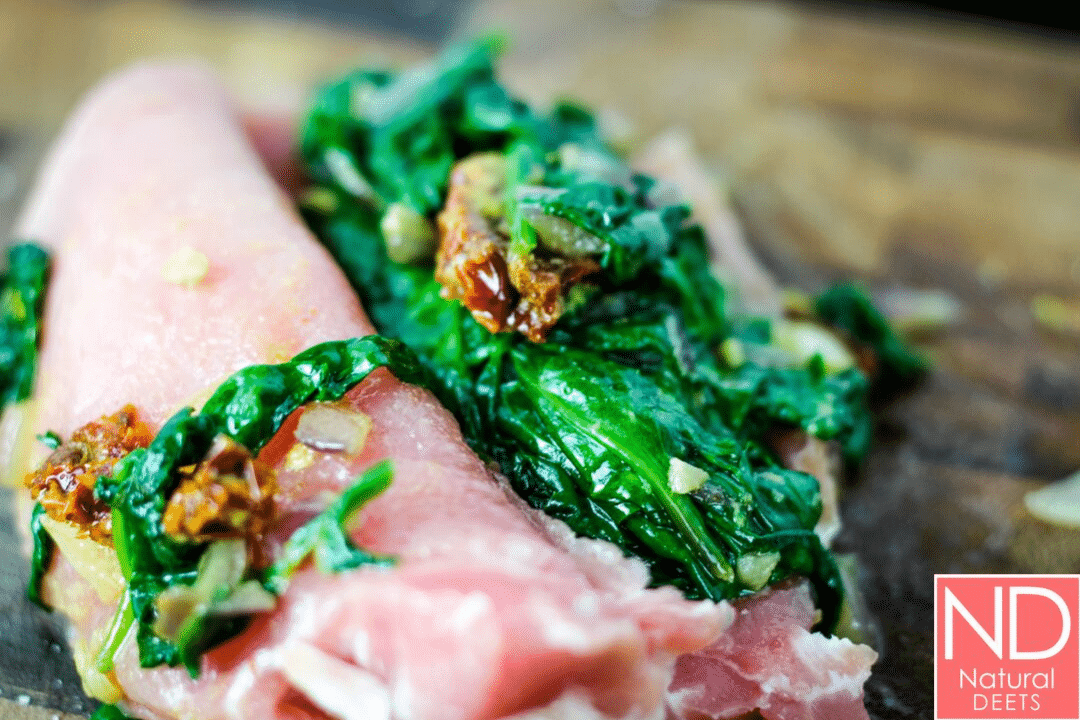 Fill each pork chop with 1/3 of the filling (we made 3 pork chops, so adjust accordingly). Pull the top of the pork chop over the filling. It is ok if it doesn't close completely.
Add Olive oil to a saute pan and let it heat for about 30 seconds. Then add the pork chops. Sprinkle the pork chops with salt, pepper and thyme. Cover and cook for 5 minutes. Flip each pork chop and cook uncovered for 3 minutes (if you have thick pork chops, you may need to add more time), or until the pork chop registers at 145°. Remember, it may still be slightly pink!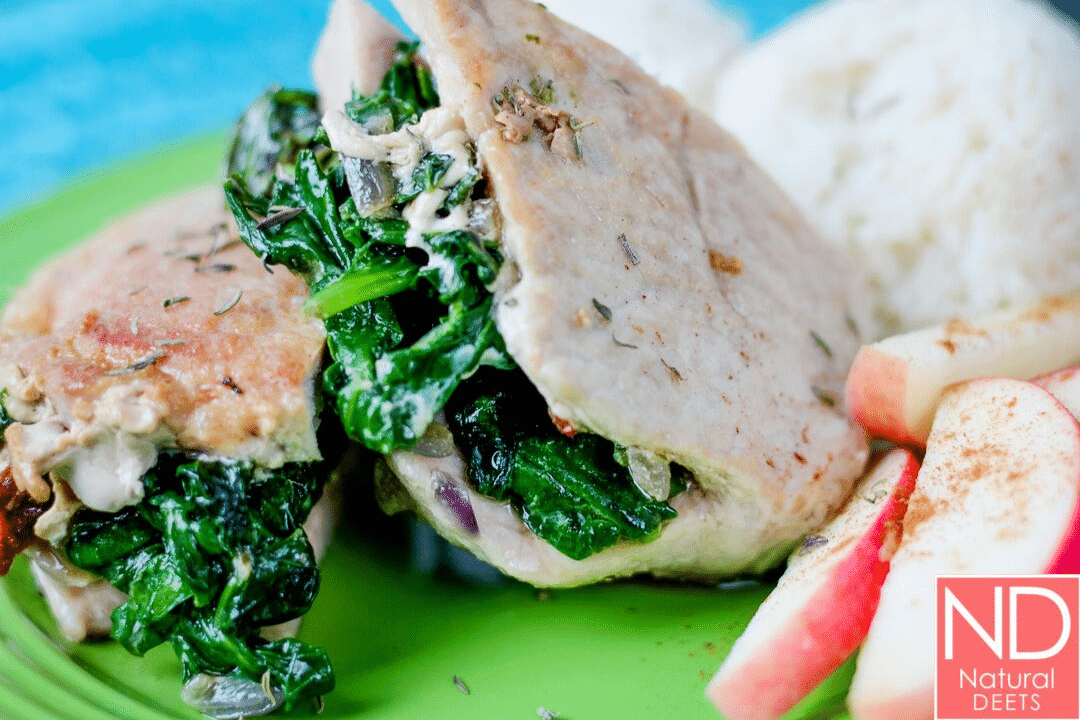 Remove the stuffed pork chops from the pan and place it on a cutting board for 10 minutes. Serve and enjoy!
Even your kids will like this one! And it's a great way to get them to eat spinach. You could serve it with a side salad, cooked apples or sweet potato fries!
COOKING CLASSES FOR KIDS – CLEAN EATING & KID FRIENDLY TOO:
As always, grab the kids and get them involved! Here are just a few things they could learn from making this recipe with you!
How to peel and mince garlic
How to chop onions
How to Saute spinach
How to stuff pork chops
How to property cookk pork chops using a meat thermometer
Looking for an online cooking class designed to teach kids real kitchen techniques? Check out our Apricot Kids course. Click HERE for the Deets!
Looking For More Fall Recipes? Try These:
How to Make Pumpkin Puree and How to Use It
Butternut Squash Appetizer – Pesto Rounds
Clean Eating Veggie Patties Recipe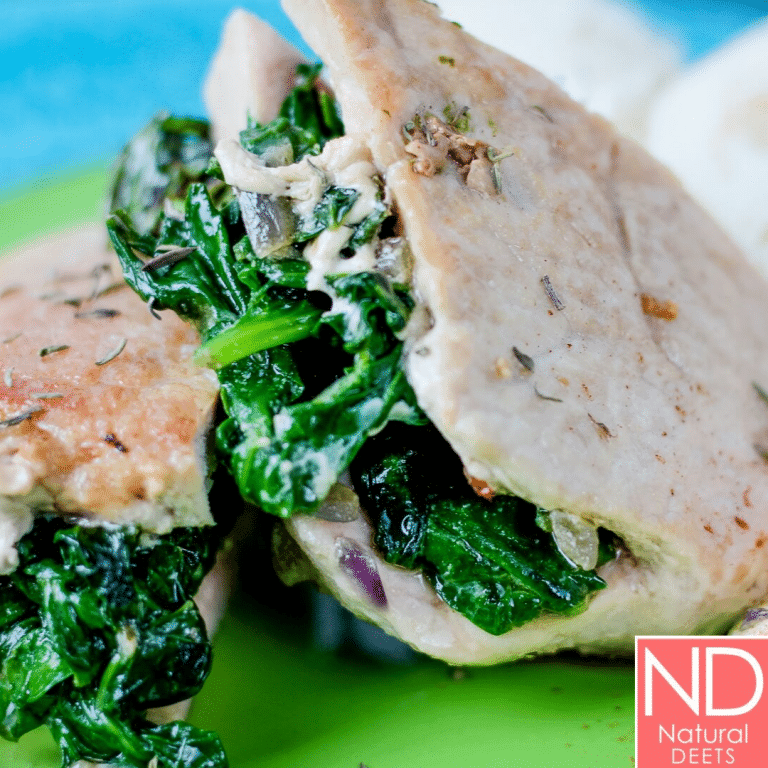 Stuffed Pork Chops
These stuffed pork chops are filled with a delicious blend of sauteed onions, garlic and spinach. Perfect for these cool fall evenings!
Ingredients
1 pound Pork Chops
5 Ounces Spinach
6 Tablespoons Olive Oil, Avocado Oil Okay too
2 cloves Garlic, Chopped
1/4 Cup Red Onion, Diced
1 Tablespoon Sun Dried Tomatoes
1 Tablespoon Nutritional Yeast
1 Tablespoon Thyme, Dried
Salt and Pepper, to taste
Instructions
Make the Stuffing
Add 3 Tablespoons Olive Oil to a saute pan
Add the Garlic and Onions and saute until they just start to brown. About 2-3 minutes
Add the spinach and saute until it starts to wilt
Add sun-dried tomatoes and Nutritional Yeast. Remove the mixture from the heat
Season the mixture with salt and pepper and set it aside
Make the Pork Chops
Place the pork chops on a cutting board and carefully cut them in half, lengthwise. Leave one side attached
Divide your filling into the number of pork chops that you have. Add one serving of filling to the middle of the pork chop and pull the top of the pork chop over the filling
Sprinkle the both sides of the pork chop with salt, pepper and thyme
Heat 3 Tablespoons olive oil in a saute pan. Gently place the pork chops in the pan
Cover and saute for 5 minutes
Remove the cover, flip the pork chops and cook uncovered for 3 additional minutes or until the internal temperature of the pork chop is 145°
Remove the pork chops from the pan and let rest on a plate or cutting board for 10 minutes
Serve and Enjoy!
Nutrition Information:
Yield:

3
Serving Size:

3 pork chops
Amount Per Serving:
Calories:

515
Saturated Fat:

8g
Cholesterol:

101mg
Sodium:

115mg
Carbohydrates:

6g
Fiber:

2g
Sugar:

1g
Protein:

36g
Nutrition information isn't always accurate. Please recalculate if you need it to be exact.
Looking for more? Here are some of our recent posts!
By