Have you ever made your own cashew milk recipe? If not, I know it looks intimidating. It took me years to finally try it, but all you need is nuts, a nut milk bag and a jar to store the milk. 5 minutes and you will have creamy and delicious milk! I'll walk you through it step by step!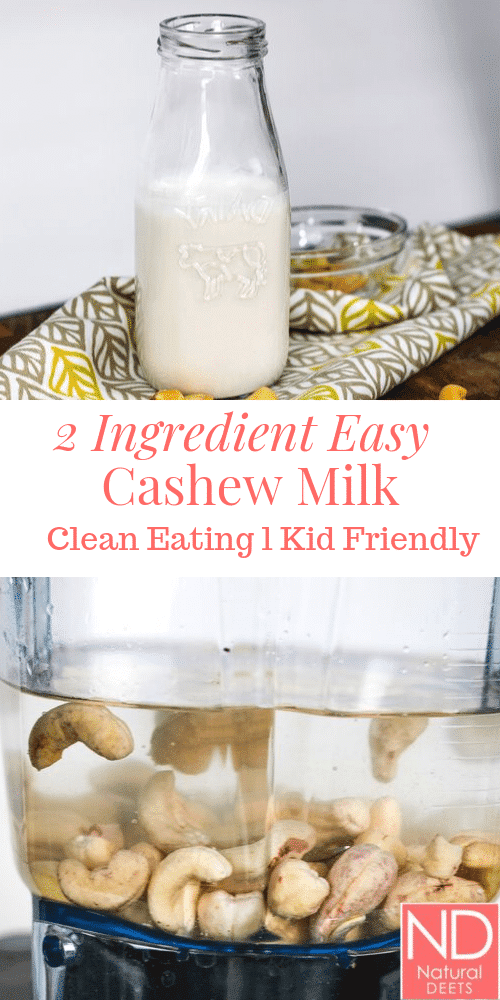 The Almond Cow milk machine started showing up on my Facebook feed about 4 months ago. After reading their ad and perusing their website, I had convinced myself that I needed to buy this machine to always have fresh nut milk on hand!
Just imagine how much someone would save with not having to purchase Costco boxes of Almond milk, and it would be completely free of preservatives. But it was $199….
Do You Need A Machine To Make Almond Milk At Home?
This is a quesiton my husband asked me over and over again. I mean, no you don't, but the appeal of a shiny new gadget is real!
I got sucked into the novely of having fresh milk in under 3 minutes (it only takes about 5 minutes to make it yourself) and I REALLY fell in love when I saw the super cute glass jug with the cow face on it!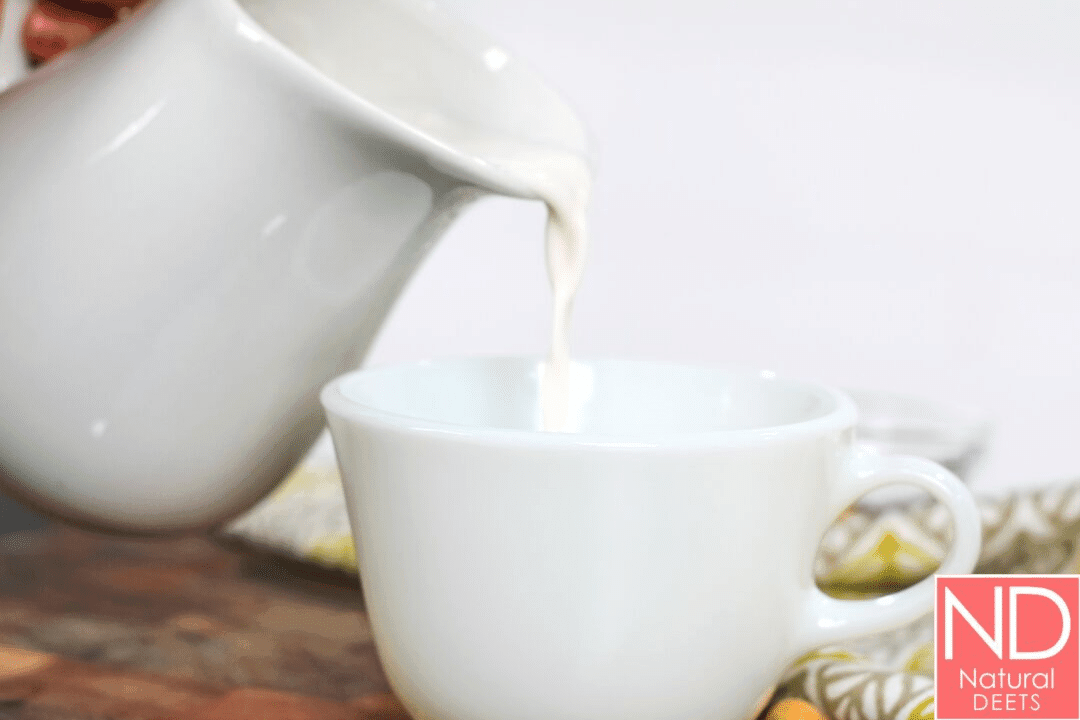 When I was finally ready to make the purchase, the real research began! I started reading every Almond Cow review and testimonial I could find…because I'm crazy like that!
But I'm glad I did. In the end, I talked myself out of the machine and decided that I should just buy the same cute milk jug from Amazon and make my own nut milk. See how cute this jug is?!
Some of the complaints that convinced me that I didn't need the Almond Cow included:
You still need to soak the nuts first (that's a big deal)
It is difficult to clean the filter in the machine. The reviewers claim it is easier to clean a nut milk bag
Making the nut milk the traditional way takes just about 5 minutes with a high speed blender. So you don't save too much time
It is expensive!
Is Cashew Milk or Almond Milk Better?
It's all a matter of preference! We primarily use almond milk just because it is more accessible. However, I actually love Cashew milk. It turns out thicker and creamier than Almond milk and has a slightly sweet flavor.
I often compare Almond milk to traditional non-fat milk and Cashew milk closer to 2% milk. You can use them interchangebly in cooking or baking too!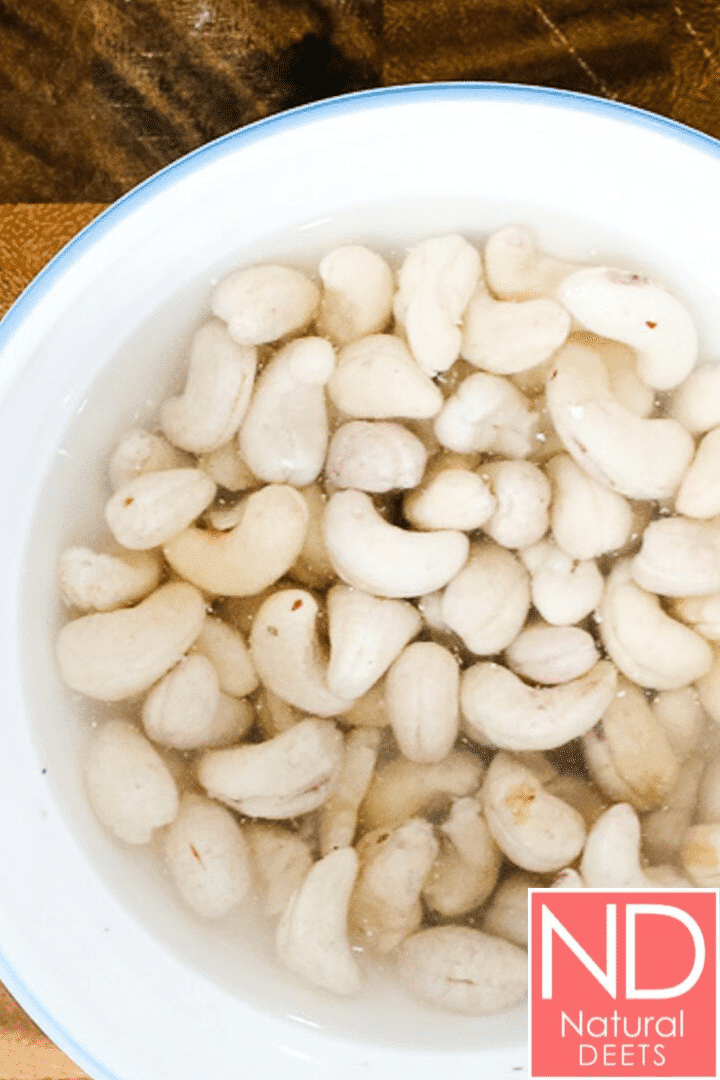 If you haven't tried it before, you may be wondering what cashew milk tastes like. I would describe it as a light flavor, slightly nutty and slightly sweet. It has such a mild flavor that it lets any other flavors shine through. Try it in hot chocolate or a matcha tea latte! Yum!!
What Are The Benefits Of Cashew Milk?
There are so many benefits to Cashew milk. Cashews are loaded with vitamins and minerals, such as:
Magnesium – Currently popular for improving mood and helping with depression. It is said to lower blood pressure and is an anti-imflamitory
Zinc – Said to boost immunity and speed up recovery from colds. Some believe it can assist in wound recovery and may improve learning and memory functions.
Iron – Iron is very important to the body. A lack of iron can lead to extreme fatigue and anemia. It is important in the immune system and helps your body produce red blood cells
Phosphorus – Makes bones strong, and helps your body detox by filtering your kidneys. It is a very important mineral needed for your body to function properly.
Do Cashew Nuts Cause Weight Gain? What Happens If You Eat Cashews Everyday?
Cashews are high in calories – 1 oz of cashews has 157 calories. So in theory they could cause you to gain weight it you aren't careful about how much you consume. It is best to eat them with no salt or butter (yes, I've heard of people sauteing them in butter).
When you make cashew milk, it is extremely watered down. We use 1 cup of nuts to 3 cups of water. And there is little chance that anyone will be drinking the entire 3 cups of cashew milk!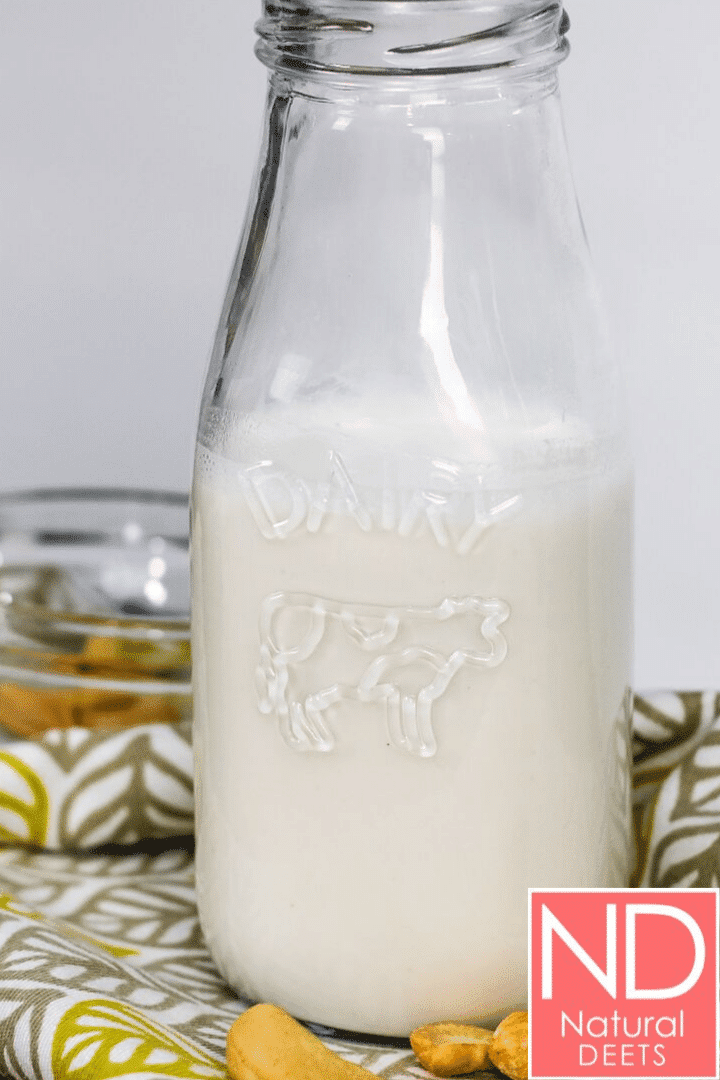 Cashews are high in lutein, which may help improve eye health and reduce the chance of cataracs too.
Other Homemade Milk To Try
For the most part, these are going to be 1 cup of the nut/seed and 3-5 cups of water. I like to use 3 cups of water because it fits perfectly into a large mason jar and it stays creamy. If you want it watered down, just add more water. I wouldn't add more than 5 cups though!
Do Cashews Need To Be Soaked?
When making nut milks, it is best to soak the nuts before blending them. The claim is that soaking the nuts breaks down the phytic acid and makes them easier to digest.
When making almonds, you want to soak them overnight, or longer. However, when soaking cashew nuts, you want to be sure to soak them for no longer than 6 hours. Soaking them longer will make them bitter and slimy…and nobody wants that!
How To Make Cashew Milk
Cashew milk is super easy to make and once you try it, you won't look back! However, there are a few things you need before you get started (aside from Cashews…obviously!)
First, you need a nut milk bag. There are so many different options but I prefer the ones that are cone shaped. They fit nicely in to a mason jar and all the nut pieces are caught in one spot (much easier to clean). Here are just a few that I recommend:
You will also need some kind of container to store your milk. I like to use a Mason jar, but I also just purchased the rectangular glass milk jug below 🙂 Can't wait to get it! This is similar to the one Almond Cow is selling without the logo.
Once you have your nut milk bag and a container to store the milk, you are ready to go!
Just place 1 cup of cashews in a bowl. Cover it with water and place the bowl in the fridge. Let it soak for 4-6 hours.
Once you have your nut milk bag and a container to store the milk, you are ready to go!
Just place 1 cup of cashews in a bowl. Cover it with water and place the bowl in the fridge. Let it soak for 4-6 hours.
After soaking, drain the nuts and place them in a high-speed blender. Add 3 cups of freshwater and blend until the nuts are completely pulverized.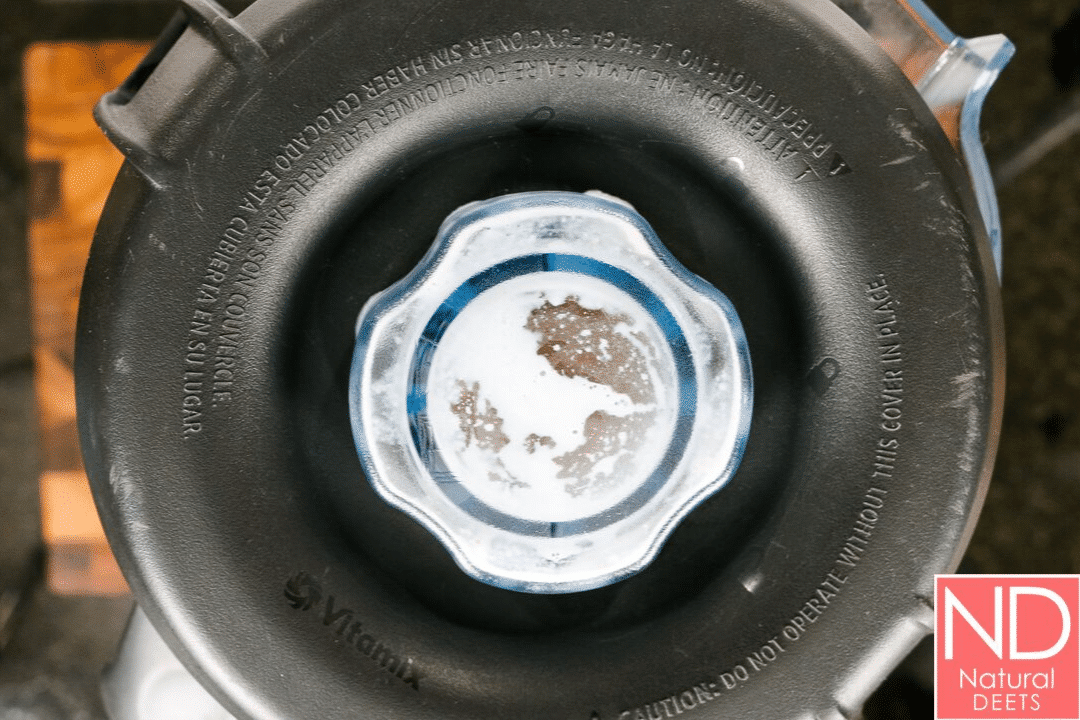 Place your milk nut bag in a container. I like to place it in a mason jar then use a rubber band around the lip of the jar to hold the bag in place.
Slowly pour the milk into the bag. This will take several batches. Once the milk starts to drain, you can remove the rubber band and slowly lift up the bag to let the milk soak through. You can gently squeeze the bag, but don't squeeze too hard or the milk will splash everywhere.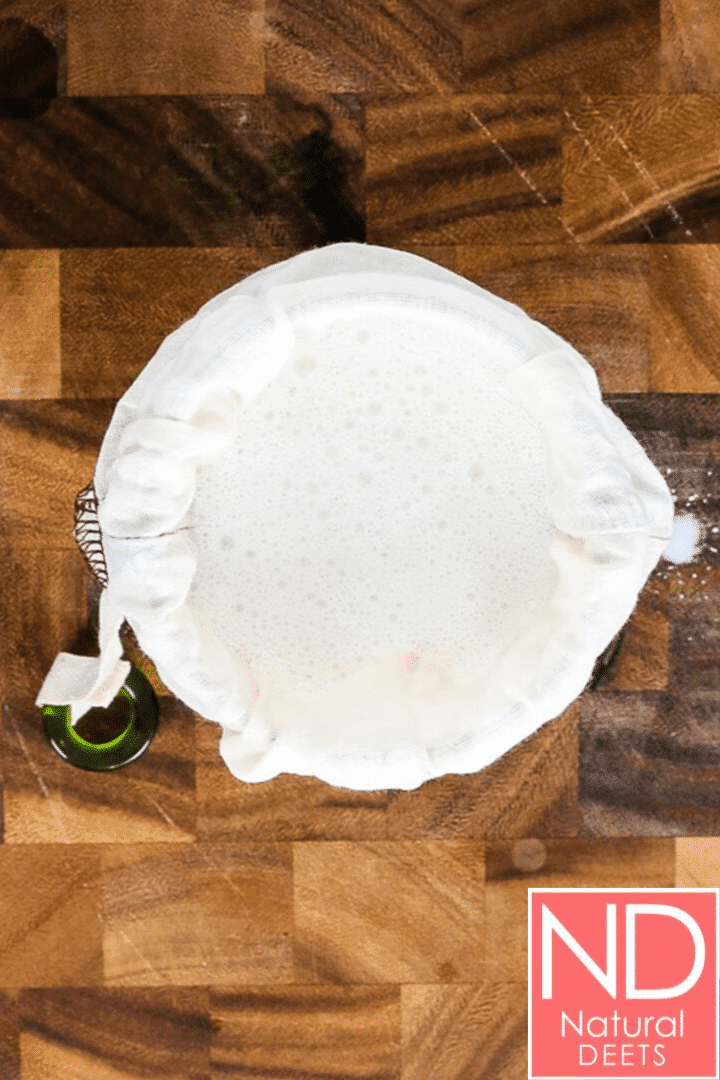 Once you filter the entire batch of milk, remove the nut milk bag.
…And that's it! Just store it in a air tight container in the fridge (this is where the cute milk jar comes in!) for up to 3 days. Though we have left it in a little longer and it was fine!
COOKING CLASSES FOR KIDS – CLEAN EATING & KID FRIENDLY TOO:
As always, grab the kids and get them involved! Here are just a few things they could learn from making this recipe with you!
The different kinds of seeds and nuts that can turn into milk
How long to soak cashews vs other nuts
How to use the blender
How to use the nut milk bag
Looking for an online cooking class designed to teach kids real kitchen techniques? Check out our Apricot Kids course. Click HERE for the Deets!
LOOKING FOR SOME WAYS TO USE YOUR CASHEW MILK? TRY THESE:
Our Best Gluten Free Corn Dog Recipe
Easy Golden Milk Recipe – Almond Milk with Turmeric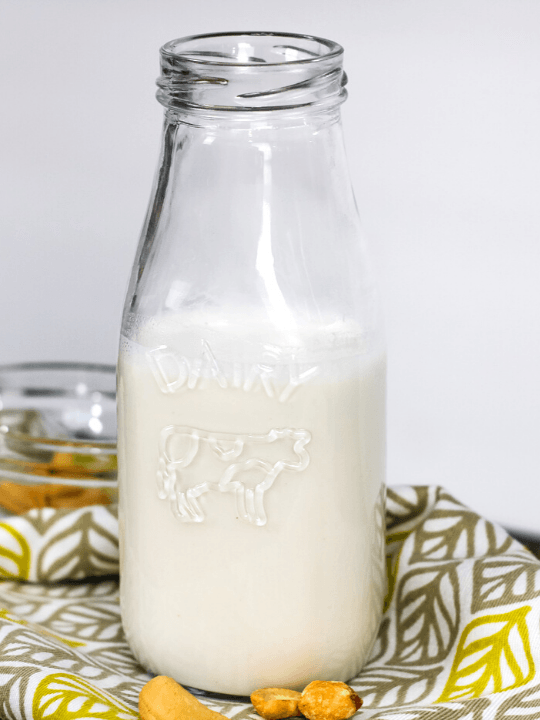 2 Ingredient Cashew Milk
Soaking the Nuts:
5 hours
Total Time:
5 hours
5 minutes
This basic cashew milk recipe can be used in place of cows milk in any recipe! If you want to drink it straight, try adding a little vanilla or dates to the mix!
Ingredients
1 Cup Raw Cashews
3 Cups Water
Instructions
Place the cashews in a bowl and add enough water to cover the nuts. Place the bowl in the fridge for 3-6 hours
Drain the water from the Cashews. Put the Cashews in a blender
Add 3 cups of freshwater to the blender. Blend until completely smooth
Place the nut milk bag into a jar or bowl. You can use a rubber band to hold the bag on the jar, if desired
Slowly pour the nut milk into the num milk bag to filter out any nut pieces that didn't get blended
Gently squeeze the nut milk bag to speed up the process, or just wait until all the milk has been filtered.
Put a lid on the milk far and store in the fridge for up to 3 days. Enjoy!
Nutrition Information:
Yield:

3
Serving Size:

3 Cups
Amount Per Serving:
Calories:

238
Saturated Fat:

3g
Sodium:

18mg
Carbohydrates:

13g
Fiber:

1g
Sugar:

3g
Protein:

8g
Looking for more? Here are some of our recent posts!
By