Chicken, rice, curry powder and coconut milk makes this Curry Chicken and Rice Casserole a go-to recipe in our house. It takes about 10 minutes to throw together and bakes in just over 1 hour. The best part? The kids like it too!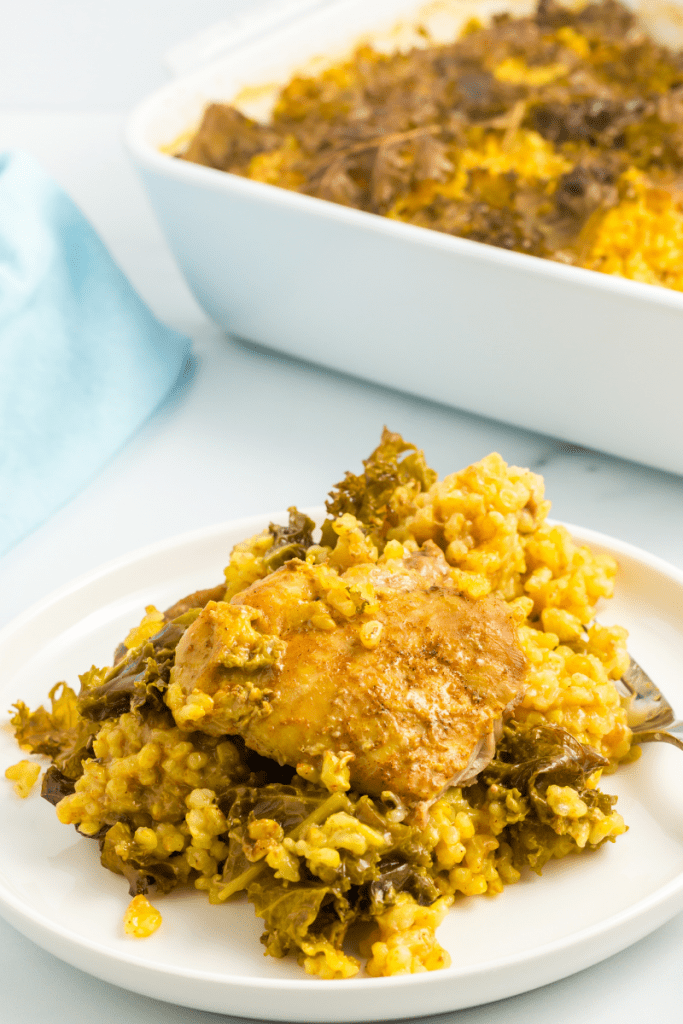 When the weather turns cold and everyone starts posting their ooey gooey cheesy casserole recipes with chicken, I always half-joke that if I could use cheese, I would be an amazing cook. Cheese is like bacon – it makes everything taste good! But when you are a dairy free family, it just isn't an option. Healthy dinner recipes like this one are warm and comforting and taste just as delicious!
Easy vegetable side dishes like sauteed asparagus, pea shoots or a simple pear salad pair perfectly with this casserole recipe and round out the meal.
Healthy Freezer Meal
This curry chicken and rice casserole freezes well. I recommend doubling the recipe and freezing one of them! To freeze this dish:
Prepare the casserole in a 9x13inch baking dish.
Let it cool completely, then cover with an airtight lid or plastic wrap and foil.
Label it and place it in the freezer
When you are ready to use it, take it out in the morning and let it defrost in the fridge until dinner. Remove the plastic wrap and put the foil back on. Then follow the baking instructions.
Another option is to freeze them in individual portions as an easy freezer meal. I am obsessed with Souper Cubes. Sometimes I will make an extra batch of this recipe and then freeze it into smaller portions using the Souper Cubes. When I need a quick lunch, I'll defrost a cube. It is much healthier than some other dishes I sometimes reach for!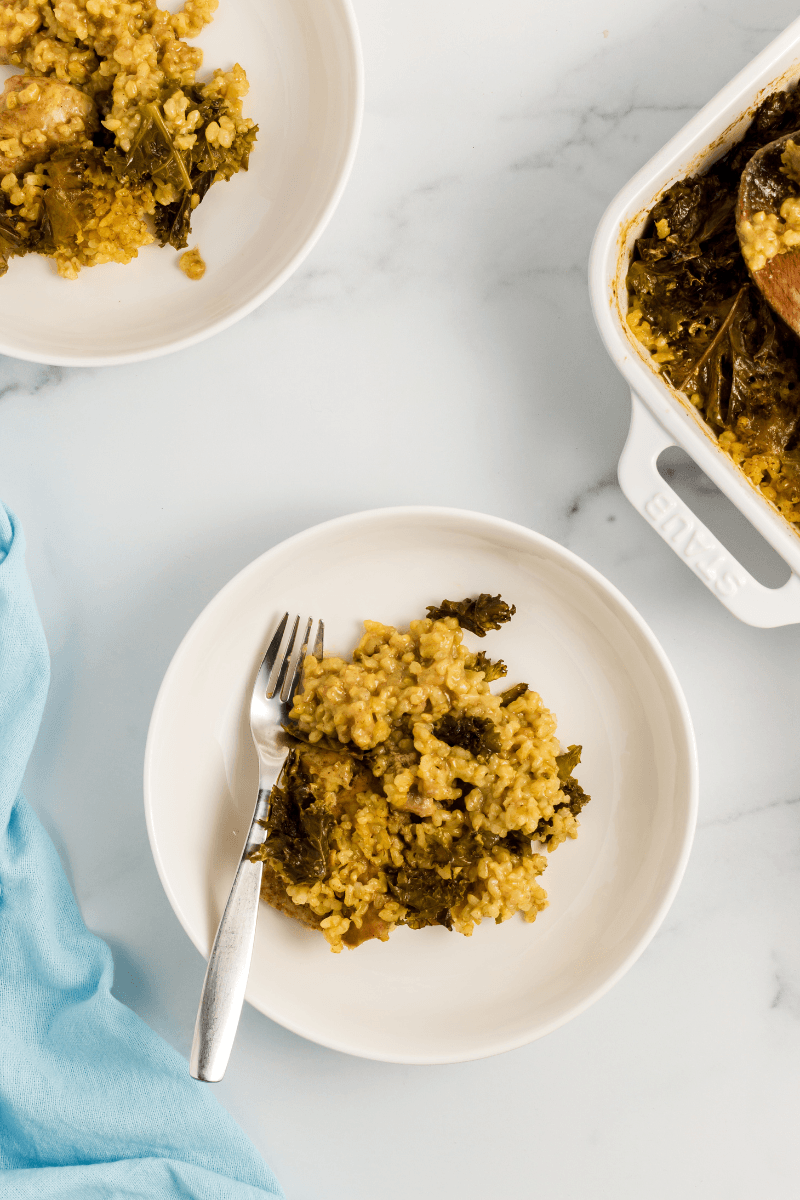 Curry Chicken and Rice Casserole Made Easy
This recipe is so simple, but there are several ways to make it even easier:
Place the frozen chicken in the fridge in the morning – If you aren't using fresh chicken, take the frozen chicken out of the freezer in the morning and let it defrost in the fridge all day. You can use frozen chicken in the casserole but it will take longer to cook and I think it is harder to judge when the chicken is cooked.
Double the recipe and freeze one pan – Since I already have all the ingredients out, I like to make a second pan and freeze it. When you are ready to use it, defrost it in the fridge in the morning and then cook it at dinner time.
Use any vegetables you have on hand – In this recipe I use kale, but I also love using Bok Choy because it has a lot of calcium for the kiddos. But feel free to use any vegetables that you have on hand. I have tried broccoli, spinach, kale, eggplant and zucchini and they are all delicious. You can also try red bell pepper, diced sweet potato or fresh ginger for a little more spice. Try topping it with fresh cilantro too!
VIDEO TUTORIAL FOR CURRY CHICKEN AND RICE CASSEROLE
Ingredients You Will Need
Chicken Thighs – Thighs work best because they have a lot of flavor and stay juicy but you can also use boneless skinless chicken breasts. The bake time on this recipe is for boneless, skinless chicken but you can use bone in as well (no skin). Just increase the cook time by about 20 minutes and make sure the chicken is cooked thoroughly before serving.
Brown Rice – I love cooking with brown rice but sometimes it can be a little too tough for the recipe. In this recipe, the brown rice matches perfectly! The tougher texture balances the chicken thighs perfectly and is so much more filling than white rice.
Curry Powder – For obvious reasons! We are using yellow curry powder. All curry powders taste slightly different but my favorite is from Trader Joes.
Coconut Milk –I recommend a full fat coconut milk in this dish. You can use a lite coconut milk, but the full fat coconut milk adds to the curry flavor and thickens the sauce. This is one case where canned milk works best. I have tried refrigerated coconut milk but it was thinner and you couldn't taste it.
Cayenne Pepper (optional) – I am a wimp when it comes to spice and I do not order 5 stars at any restaurant like some of my friends do! If you like spice, add some cayenne pepper. The flavor will complement the yellow curry powder perfectly!
Kale, Spinach or any Veggie – Use any vegetable you have on hand. I have even added frozen vegetables like frozen peas and green beans in a pinch. If you are really sneaky, you can mix cauliflower rice with the brown rice. No one will know!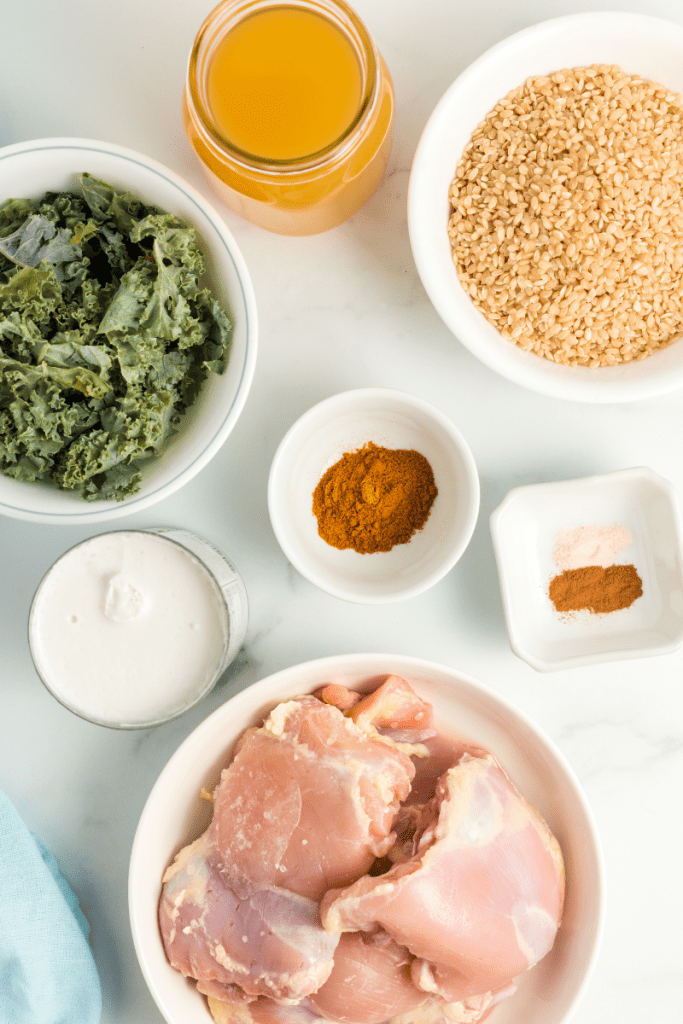 Assembling the Chicken and Rice Casserole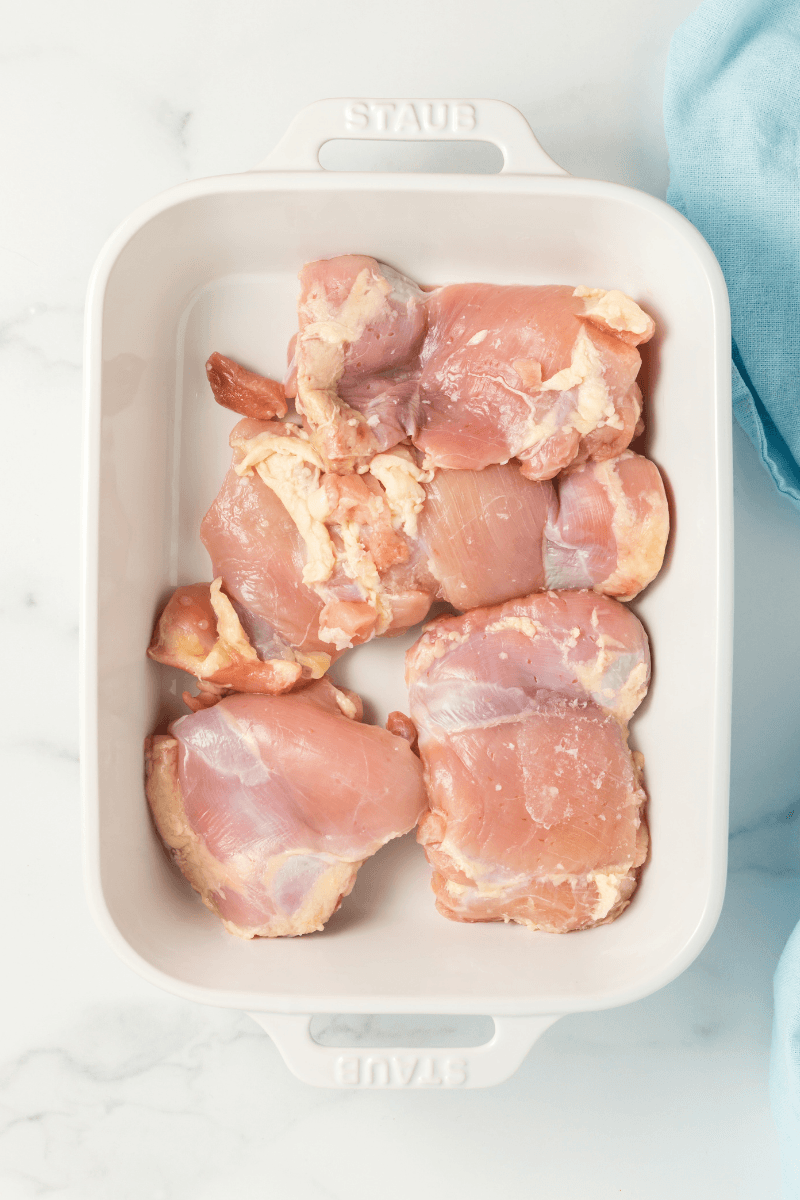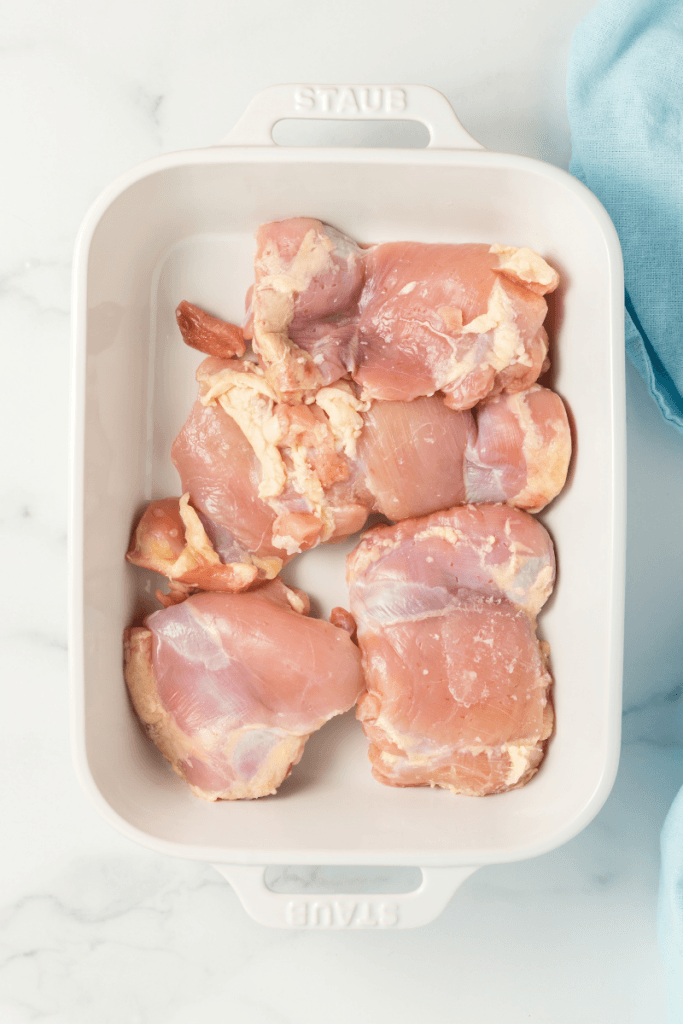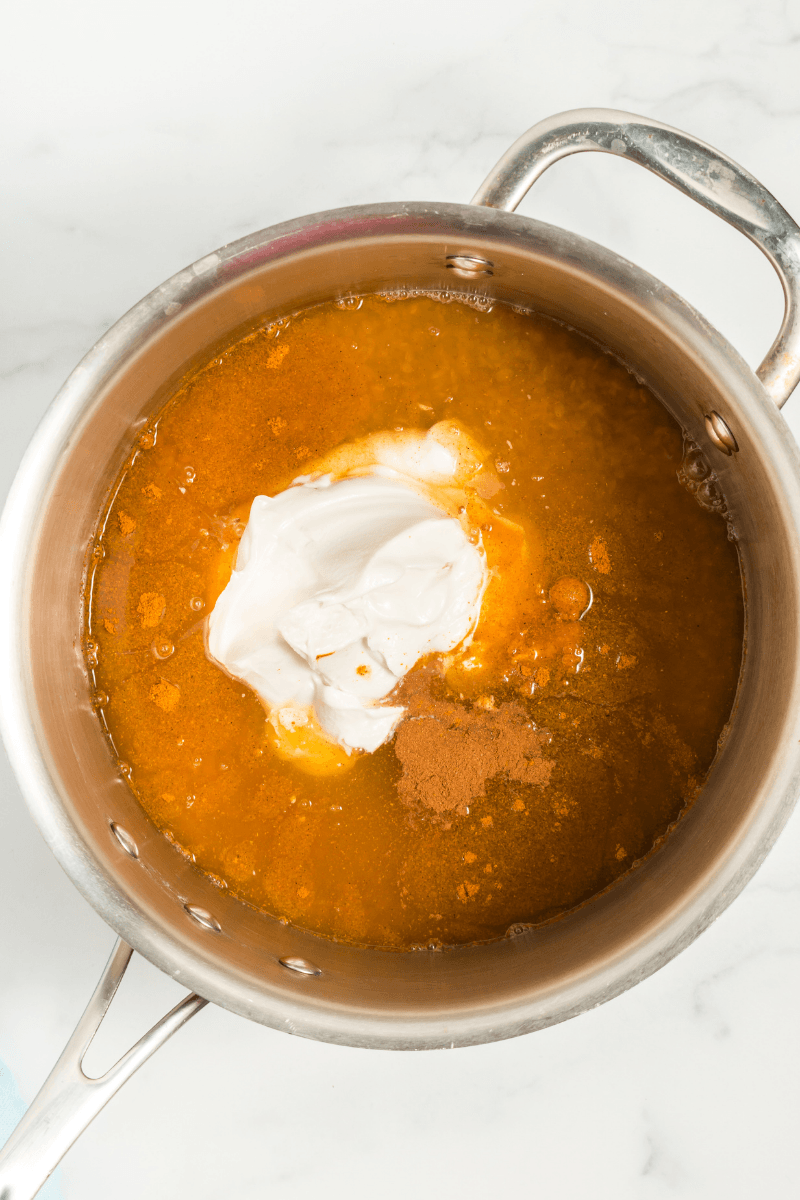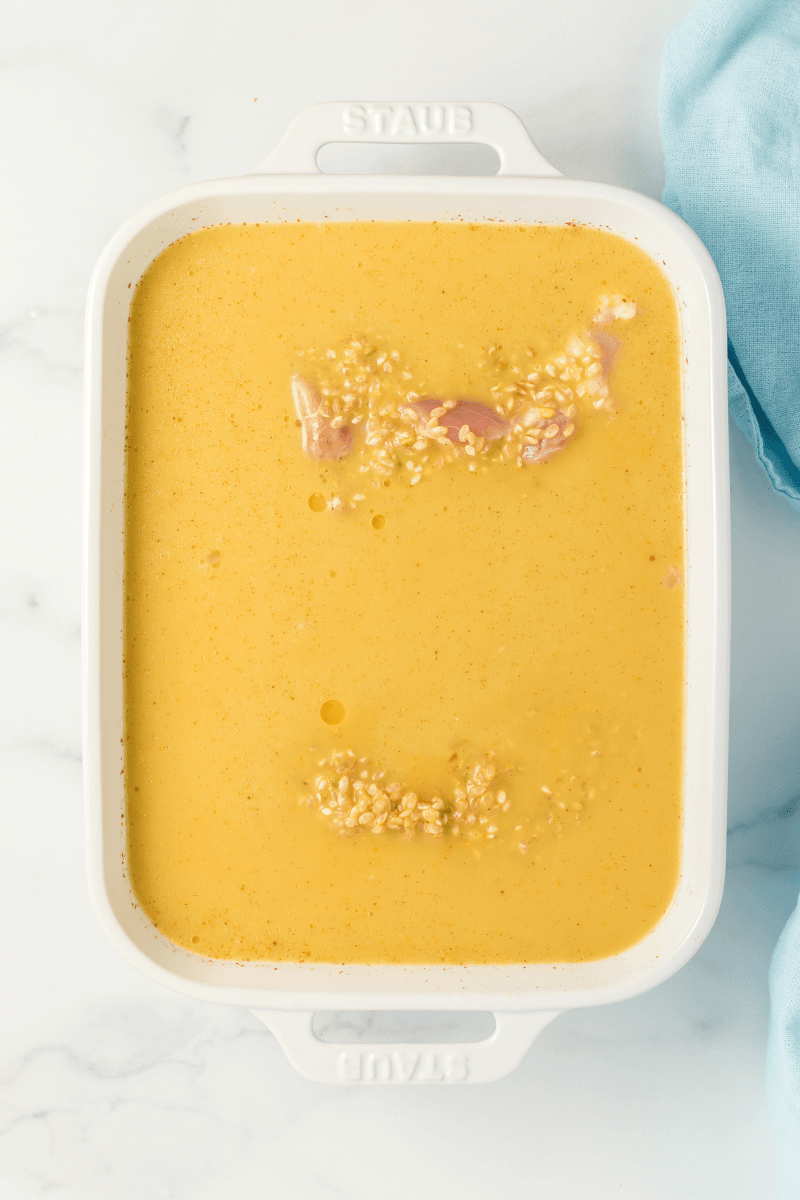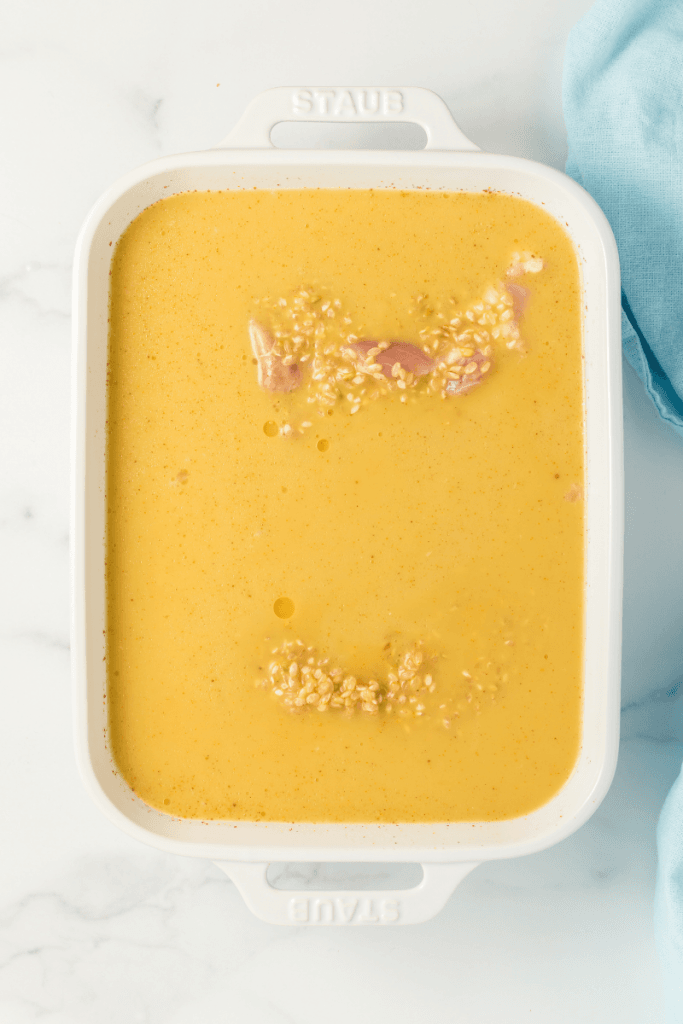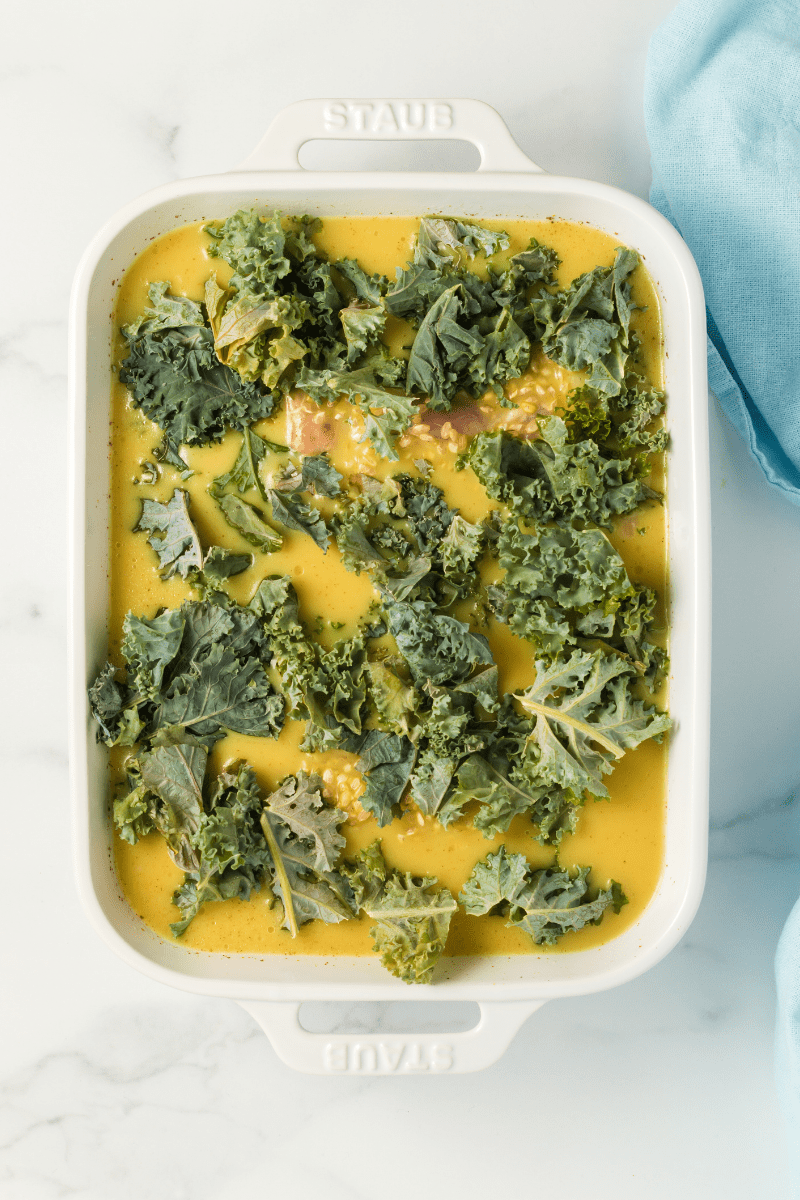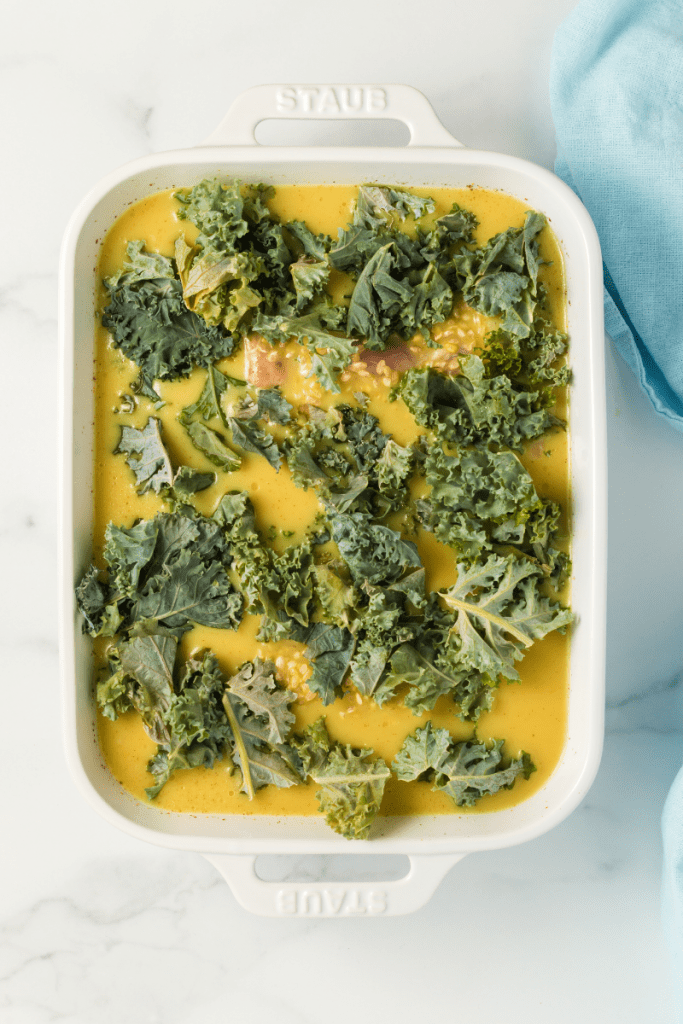 How to Make Curry Chicken And Rice
Start by greasing a 9×13 pan. I prefer to use a glass pan or a ceramic casserole since we avoid nonstick cookware. I find it also cooks more evenly.
In a small saucepan, add chicken broth, coconut milk (canned milk works much better than the fresh stuff), curry powder and salt. Bring to a boil and turn off the heat.
Pour the curry mixture over the chicken and rice and cover the pan with foil. Bake for 1 hour and 10 minutes. Once done, take it out and let it sit for 10 minutes. Then serve and enjoy!
What to Serve as a Side Dish
This is meant to be an all in one dish. However, in my effort to eat 50% vegetables, I like to add an additional vegetable to balance out the carbs. Here are some of my favorite ideas:
Sauteed Asparagus – Sauteed asparagus is so fast and easy and it pairs perfectly with this dish
Pea Shoots – If you are making this in the spring, you can find pea shoots at the farmers market. They are so good!
Curried Eggplant – Saute diced eggplant with curry power and a pinch of salt. Saute until soft
Sauteed Zucchini – If you have 2 ovens, you could roast it instead. If not, just saute it in a pan
Sauteed Spinach – This is great because it goes great with the rice
Pear Side Salad – This salad is delicious but doesn't pair perfectly with this dish. But it works in a pinch!
Frequently Asked Questions
Can I substitute the coconut milk with another milk?
You can use a different type of milk, but I don't recommend it. This is a curry chicken dish and part of the curry flavor comes from the coconut milk. If you replace it with a different milk it will still work but will then be a chicken and rice dish and not curry chicken and rice.
Do I cook rice before adding to casserole?
No, you do not need to cook the rice first and that is the beauty of the recipe! This is a good lazy night meal because you add it all to the pan, including the uncooked rice, cover it and bake.
Can you put raw chicken in a casserole?
Absolutely! There is no need to precook the chicken. In fact, I sometimes add the chicken when it is still partially frozen. Just be sure to add 10 minutes or so to the cooking time and make sure your chicken is cooked before serving it.
Will uncooked rice cook in a casserole?
Yes it will. Rice is made by cooking rice in water and trapping the steam to speed up cooking. In this recipe we cover the dish with foil, essentially trapping the steam and cooking the rice.
How do you fix undercooked rice in a casserole?
The only way to fix undercooked rice is to continue cooking it. If the rice is still hard, you will want to cover the dish and put it back in the oven. If the rice is almost cooked but still slightly tough, you can take the dish out of the oven and let it sit with the foil on it. The steam will continue to cook the rice.
More Dinner Recipes You Might Enjoy: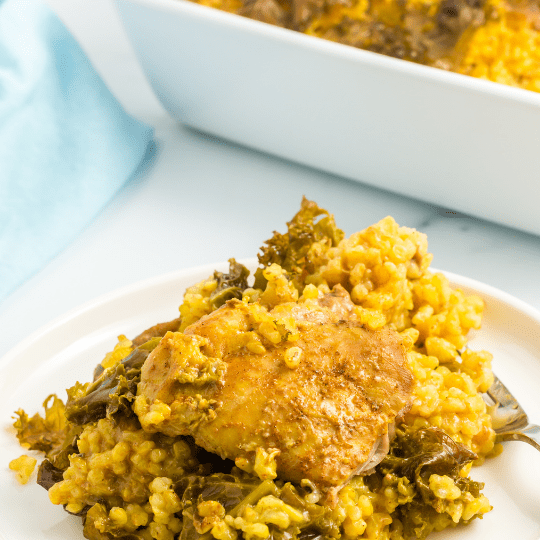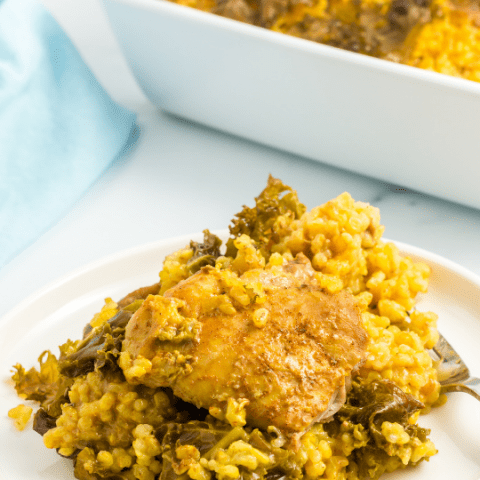 Curry Chicken and Rice Casserole
Cook Time:
1 hour
10 minutes
Total Time:
1 hour
20 minutes
Chicken, rice, curry powder and coconut milk makes this warm dish a go-to recipe in our house. It takes about 10 minutes to throw together and bakes in just over 1 hour. The best part? The kids like it too!
Ingredients
2 pounds Chicken Thighs
2 Cups Chicken Broth
1 1/2 Cups Brown rice, washed
1 Cup Coconut Milk, canned
3 Cups Kale, chopped
2 teaspoons Curry Powder
2 teaspoons Cinnamon
1/2 teaspoon Salt
Instructions
In a medium pot, add the Chicken broth, Rice, Coconut milk, Curry powder, Cinnamon and Salt. Bring to a boil over medium heat and then turn off the heat.
In a 9x13 inch casserole dish, place the chicken thighs in a single layer
Carefully pour the rice mixture over the chicken and spread evenly. We want to rice to be under the liquid to cook evenly.
Sprinke the kale evenly over the top.
Cover the pan with foil and place it on a cookie sheet.
Bake at 350 degrees fro 70 minutes.
Remove from the oven and let it sit for 5-10 minutes before serving.
Nutrition Information:

Yield:

4

Serving Size:

1 Amount Per Serving:

Calories:

717

Total Fat:

45g

Saturated Fat:

20g

Trans Fat:

0g

Unsaturated Fat:

23g

Cholesterol:

293mg

Sodium:

1152mg

Carbohydrates:

26g

Fiber:

4g

Sugar:

2g

Protein:

59g

Nutritional information was calculated automatically. Please verify accuracy

By