Start your day off right with this tasty tropical smoothie! This sweet and healthy smoothie is made from tropical fruit and spinach, so it's a great way to help the kids get their five a day.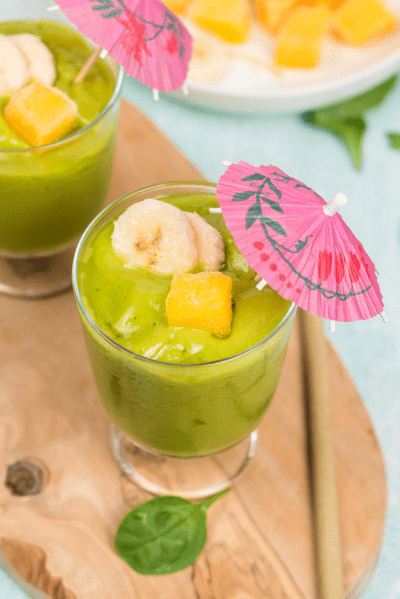 Healthy smoothies are an easy breakfast idea!
Healthy smoothies are an excellent option for breakfast because they are so quick to prepare, and it's easy to pack them full of fruits and veggies. This tropical smoothie is especially good for you because it has added spinach. Smoothies are also fantastic as a quick and healthy snack!
If you have struggled to get your child to drink a spinach smoothie in the past (some kids do find a green smoothie offputting!), take a look at our guide on how to make a smoothie for picky eaters for some valuable tips. You can also check our other easy breakfast smoothie recipes if you'd like some more inspiration for breakfast time.
Our tropical smoothie is made with frozen banana, mango and pineapple, so you won't need to spend time chopping up fruit. Simply pop it all in the Vitamix or other blender along with spinach and coconut water, and you're done.
Nice and easy!
VIDEO TUTORIAL – Coming Soon!
Ingredients You Need For A Healthy Smoothie
Banana, Frozen – Once bananas start to brown on your counter, peel them, put them on a plate and place them in the freezer. Once frozen, store them in a freezer bag.
Mango, Frozen – It's easier to just buy frozen mango. I tried freezing my own but it was expensive because there isn't much fruit on one mango
Pineapple, Frozen – I buy pineapples for $2.99 at Costco. Peel them, chop in to 1 inch chunks and freeze them.
Spinach, Fresh – If you don't have spinach, kale, or a mix of greens will work. I don't recommend arugula
Coconut Water – Make sure there is no added sugar
How To Make a Tropical Smoothie in 2 Steps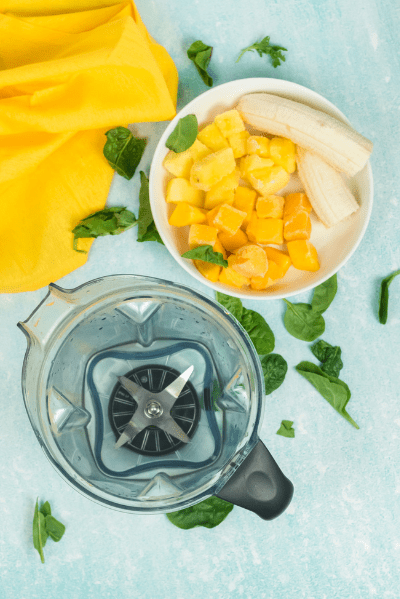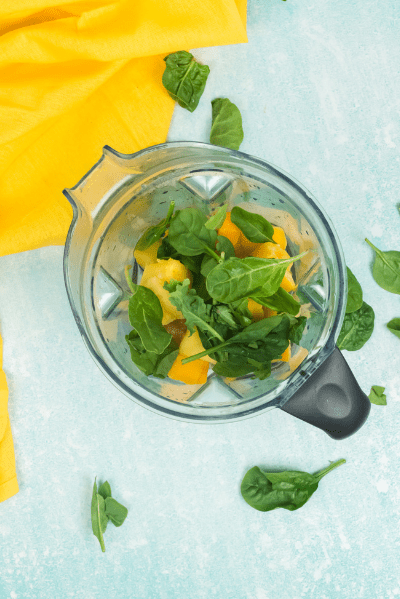 How To Make A Tropical Smoothie
Tropical smoothie is a kid recipe, so we've made it as simple as possible! You can have this prepared in minutes, leaving you more time to focus on the inevitable chaos of a busy morning.
Pop your almond milk into the Vitamix or blender. Then add all of the fruits and spinach, and blend until smooth. Depending on what kind of blender you have, you may need to stop a couple of times to scrape the sides.
If you think the mixture looks too thick, you can add a little more almond milk, but only add a small amount at a time.
Serve and enjoy!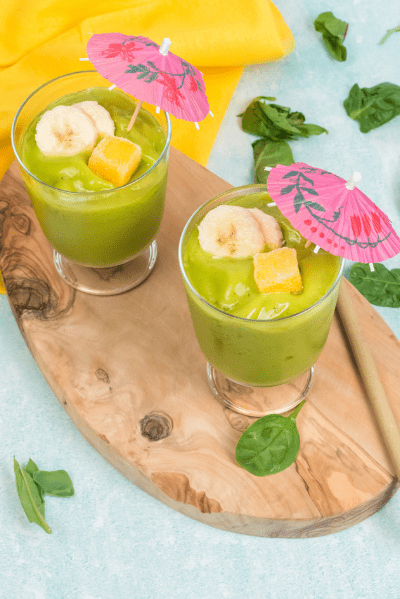 Smoothie Tips and Tricks
Spinach. You can substitute the spinach for other leafy greens; kale works well. If you are going to use kale, then use half the amount because it has a strong flavor.
Coconut Water. I think this tropical smoothie tastes delicious with coconut water, but you can substitute this for regular water or any type of nut milk if you prefer.
Make it a smoothie bowl! You can make your tropical smoothie into a smoothie bowl by simply decreasing the amount of coconut water from 1 cup to ¼ of a cup. Try topping it with fresh fruits, chopped nuts or seeds.
Frequently Asked Questions About KEYWORD
Are smoothies better with milk or water?
Either one will work for a smoothie. Milk will result in a creamier, thicker smoothie. Water will be a little thinner but will still be delicious. I love using coconut water in this smoothie because it adds to the tropical flavor!
Can I make smoothies ahead of time?
Smoothies like this one that use frozen fruit taste better when they are consumed immediately after blending. You can make it ahead of time but it will melt, even in the fridge. Instead, you can make frozen smoothie packs. Just measure the fruits and spinach and add them to a freezer bag or freezer safe container. When you are ready to use it, add your coconut water to the blender and dump in the fruits.
Is blending fruit bad?
There are two primary concerns that people have when it comes to blending fruit – Fiber and Sugar. Fruits have lots of dietary fiber and blending them can break down the fiber. You will always consume more fiber if you eat the fruit whole, but I know when it comes to kids, sometimes it's a fruit in smoothies, or no fruits at all! Fruits also have a lot of sugar, so if you are using smoothies for weight loss, you will want to be aware of how much fruit you are using. Weight loss smoothies should have more vegetables than fruit.
What should you not mix in a smoothie?
Smoothies are typically viewed as a healthy snack, so they should not contain any added sugars (processed or natural). Most smoothies can be sweetened with bananas, sweet berries or apples, but if you need more sugar, try using a date. It may take a little while for your taste buds to adjust to the natural sweetness of fruits, but it will happen!
Are frozen fruit smoothies healthy?
Yes, they can be! The ideal healthy smoothie has a balance of fruit, vegetables and a protein. This recipe has a lot of fruit and a handful of vegetables. If you wanted to make it even more nutritious, increase the amount of spinach and add vanilla protein powder or nuts and seeds. You could even substitute the coconut water for a nut milk.
Are You Looking For More Kid Friendly Smoothie Recipes? Try these: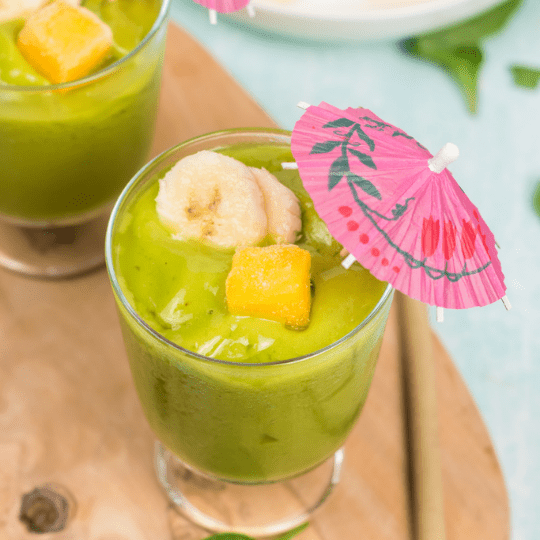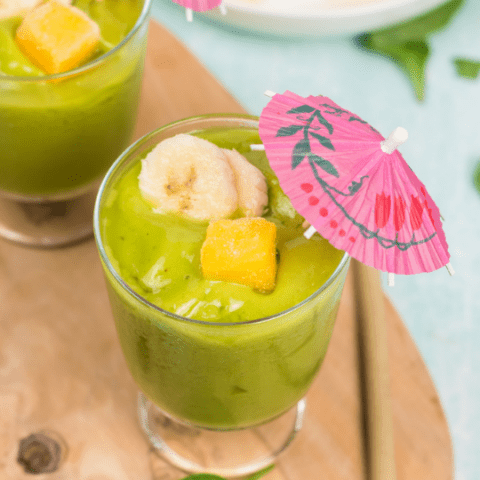 Good Morning Tropical Smoothie With Spinach
Start the day right with this tasty tropical smoothie! This sweet and healthy smoothie is made from tropical fruit and spinach, so it's a great way to help the kids get their five a day.
Ingredients
1 Cup Coconut Water
1 Banana, Frozen
1 Cup Mango, Frozen
1 Cup Pineapple, Frozen
1/2 Cup Spinach, Fresh
Instructions
Add the coconut water to a high powered blender. I use a Vitamix
Add the frozen banana, frozen mango, frozen pineapple and spinach to the coconut water
Blend until smooth
Serve and enjoy!
Nutrition Information:

Yield:

2

Serving Size:

1 Amount Per Serving:

Calories:

176

Total Fat:

1g

Saturated Fat:

0g

Trans Fat:

0g

Unsaturated Fat:

0g

Cholesterol:

0mg

Sodium:

160mg

Carbohydrates:

43g

Fiber:

6g

Sugar:

30g

Protein:

4g

Nutritional information was calculated automatically. Please verify accuracy

By