Amazing Halloween drink recipes don't need to be time consuming! This fast and easy Halloween punch has only 4 ingredients and once the pumpkin cubes are frozen, it can be put together in minutes! This will be the hit of your party and it only requires minimal preparation.
Pair this with our Halloween Cashew Cookie recipe and you're guaranteed a room full of happy kiddos!
You will need a silicone pumpkin mold for this recipe. Here is the one that we used: 3D Silicone Pumpkin Mold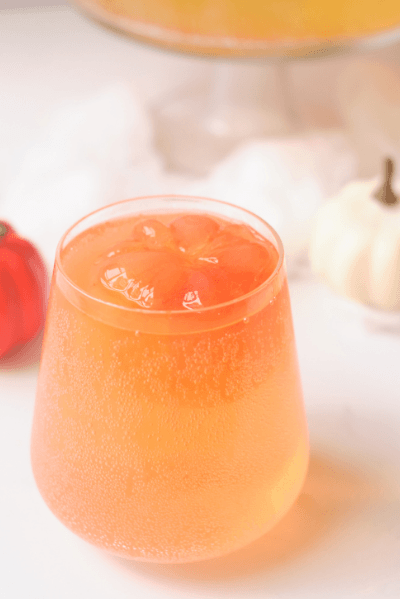 Halloween is a fun holiday around our house but our family isn't into the scary, gory types of drinks and decorations. I can admire the work and creativity that goes into a purposely disgusting looking dish, but I eat with my eyes and just can't do it…which is the point.
That doesn't mean we don't enjoy coming up with fun Halloween party ideas and delicious drink recipes. Try serving this drink at night. Add to the spooky factor by placing the punch bowl in a bowl of dry ice. The smoke will bellow out over the top of the bowl and add some mystery to the concoction.
Also experiment with different molds. Skeletons, witches or even cats could be fun too.
Halloween Cocktails
This recipe is designed for kids, but that doesn't mean adults can't enjoy it too. If you want to make a boozy Halloween cocktail, there are a few changes you can make to turn it alcoholic and low calorie (well, as low calorie as an alcoholic mixed drink can be!):
Instead of orange juice for the pumpkin ice cubes, use 2.5 cups of water + Orange water enhancer. Make sure the water enhancer has an orange color to it. Mix water and water enhancer and pour into the mold. Let it freeze overnight.
Add an alcohol of your choice to the punch. I would recommend a Pineapple flavored vodka!
If there are going to be kids around, be sure to make it obvious that this is not for kids. You don't want them mixing up the punch bowls!
How pretty is this?!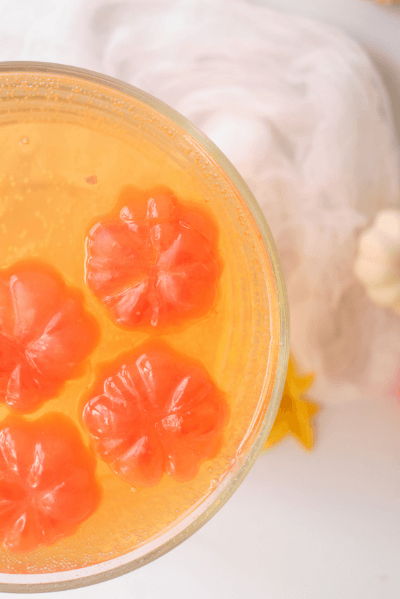 What you need:
You will need a pumpkin silicone mold. We used a pumpkin but I also found 3D Skulls. This is the one we used: 3D Pumpkin Mold
2-1/2 Cups of Peach juice – When choosing a juice, have an idea of how bright of an orange color you are going for. You can use orange juice but it won't provide a vibrant orange color. You can also use any type of orange colored juice… I realize juice has a lot of sugar, but this recipe is a treat, not an everyday drink! If you don't mind red pumpkins, try pomegranate juice!
3 Cups Sparkling Water – Try to stay away from tonic water. It changes the flavor and I have found that the kids don't like it. Save it for your adult beverages!
3 Cups Pineapple Juice – Canned pineapple juice works in this recipe. Again, I know if has a lot of sugar but we are watering it down and splitting it among several kids.
Orange food coloring – This is optional but if your peach juice is light in color and you want a vibrant pumpkin, try adding some natural orange food coloring.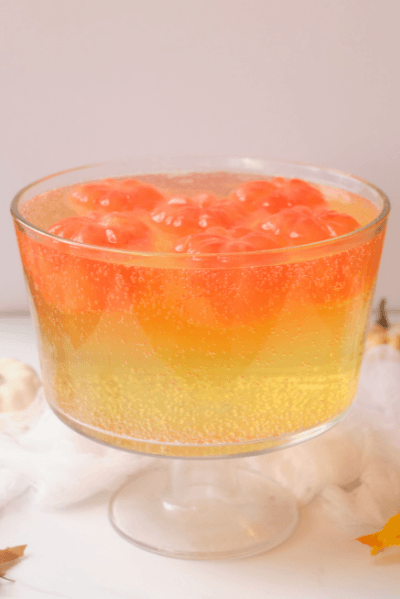 Add this to your Halloween drink menu! Easy as 1, 2, 3…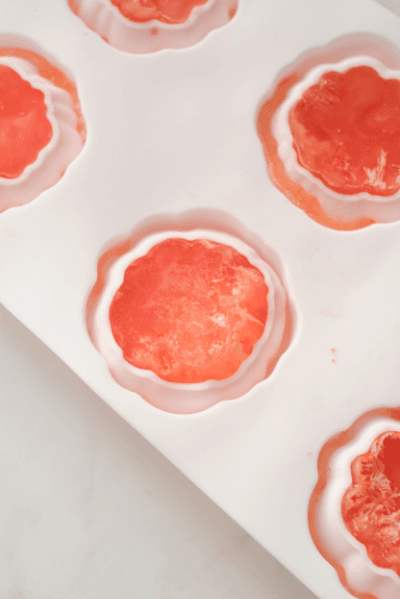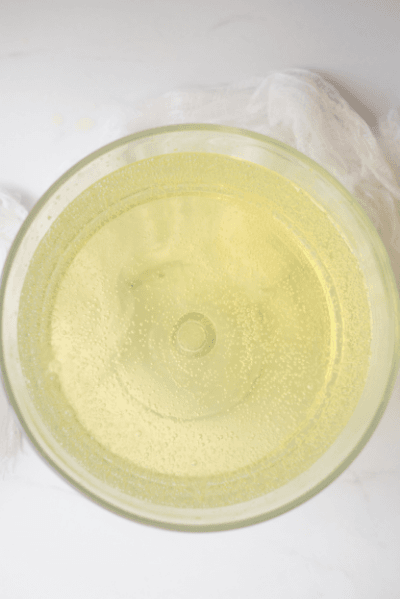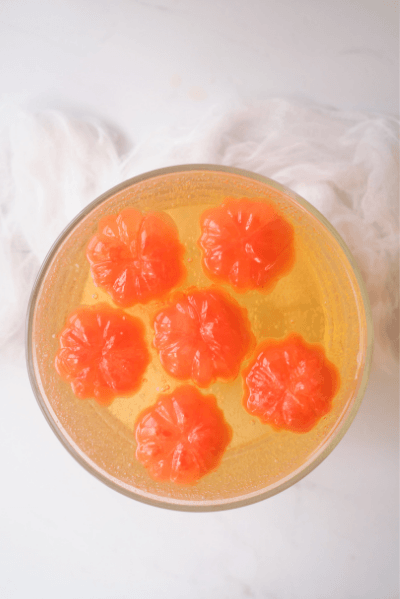 Can you freeze orange juice?
Yes, you can freeze orange juice but it will slightly change the texture. In a drink like this Halloween punch, where the orange juice acts as an ice cube, the consistency of the orange juice really won't matter, so it works well. I like to use orange juice sometimes because I have it on hand. The V8 juice also freezes well.
Frequently Asked Questions About Halloween Punch
Can I use a juice other than Peach?
Yes, you can use any juice that your heart desires! Just keep in mind that the color of the juice will determine the color of the ice cubes.
Can you make this ahead of time?
The ice cubes can be made ahead of time. However, you don't want to mix the punch until you are ready to serve it. As the carbonated water sits out, it will start to lose it's bubbles. At the end of the night your punch will still taste delicious, but it will be flat.
How long will the ice last before it melts?
Since we are using 3D ice cubes, and Halloween is in the middle of Fall, the ice should last quite a while. For us it lasted about an hour. We started serving each drink with an ice cube and refiling the punch bowl with more ice cubes as the night went on.
What if I need more than 6 ice cubes in my Halloween Punch?
Start making your ice cubes early in the week. Freeze one batch and once frozen, pop them out and store them in a zip top bag. Keep making batches and adding them to the bag. By the time you have your party, you should have more than enough ice cubes!
Can you put dry ice in punch
Technically you can. As long as you don't serve the dry ice, it is believed to be safe. As a mom (perhaps overprotective) I don't let my kids drink punch with dry ice and I don't recommend serving it to kids. You just never know…
Check out even more healthy Halloween recipes: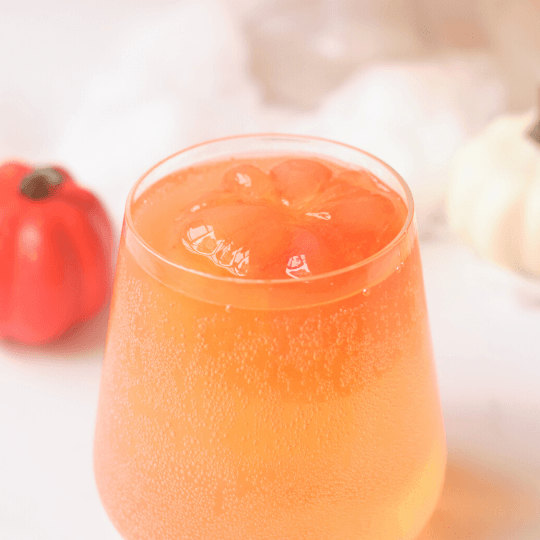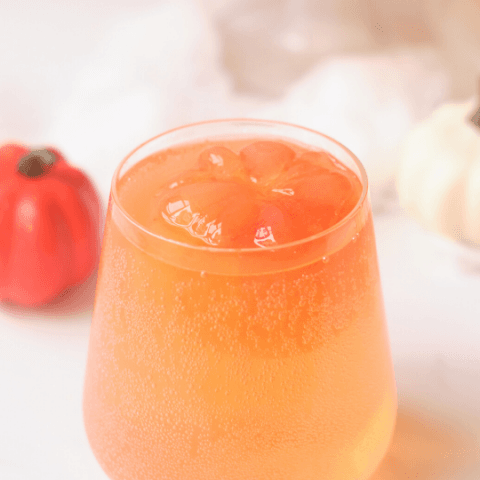 Easy Halloween Punch Recipe
Additional Time:
12 hours
Total Time:
12 hours
5 minutes
Kids will love this sparkling punch and parents will love that it is made with real fruit juice!
Ingredients
2 1/2 Cups Peach Juice
3 Cups Pineapple Juice
3 Cups Sparkling Water
Instructions
Pour the peach juice into the pumpkin molds. Freeze at least 12 hours, or overnight
When you are ready to serve, fill a punch bowl with the pineapple juice and seltzer water and gently mix.
Gently place the pumpkin ice cubes on the top of the punch
Serve and enjoy!
Nutrition Information:

Yield:

6

Serving Size:

1 Amount Per Serving:

Calories:

122

Total Fat:

0g

Saturated Fat:

0g

Trans Fat:

0g

Unsaturated Fat:

0g

Cholesterol:

0mg

Sodium:

11mg

Carbohydrates:

31g

Fiber:

1g

Sugar:

25g

Protein:

1g

Nutritional information was calculated automatically. Please verify accuracy

By