These fun Halloween Chocolate Rice Krispie Treats are so fast and easy to make so you can whip them up anytime! Best of all, everyone loves them!
To keep things simple and allergen free, I like to use premade Rice Krispie squares and Enjoy Life dairy-free chocolate. This makes them the perfect Halloween treat for school too. If you want to make Rice Krispie treats from scratch, be sure to check out our colorful Halloween Rice Krispie Treats recipe.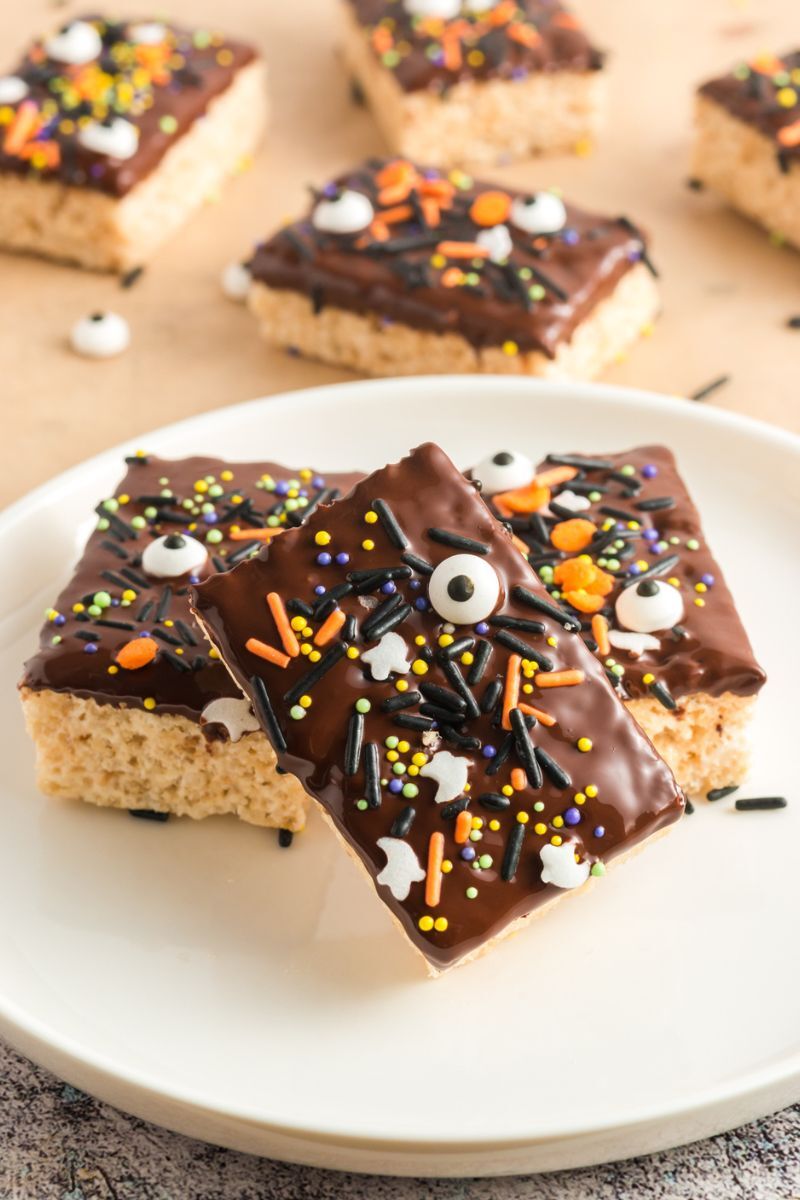 What makes these Chocolate Rice Krispie treats so good??
Allergy Friendly – It is so much fun to make homemade treats for Halloween but it can be difficult when there are so many food allergies in the classroom. In these chocolate rice krispie treats, we use individually wrapped Rice Krispie treats and Allergen-free chocolate chips to ensure there are no common allergies. Be aware that the Rice Krispie squares do have milk, so if you have a dairy free classroom, you'll want to make them from scratch (see the notes section for tips).
Quick and easy to make – These can be made in less than 30 minutes. All we do is melt the chocolate, dip the Rice Krispie treats and decorate!
Easy to store – These can be stored in an airtight container or individual plastic bags. That means you can make them the night before and they will still be soft and delicious the next day.
So Much Fun to Decorate! – The only thing limiting you here is your imagination. We love to use candy eyeballs on Halloween treats, but there are so many other options! Just get creative! Here are a few ideas to get you started:

Halloween sprinkles (black, orange, red, etc)
Mini marshmallows
Sea Salt
Peanut Butter drizzle
Semi sweet chocolate chips (mini)
Cocoa Krispies
Licorice pieces
Ingredients you need for Chocolate Rice Krispie Treats
Individually wrapped Rice Krispie Treats with wrapper removed
Dairy-free chocolate chips – Regular semi-sweet chocolate chips will work here too. If making these for older kids, you could try dark chocolate too
Coconut oil – Adding a little coconut oil to the chocolate makes it smoother and easier to dip
Sprinkles, Eyeballs or other decorations
Step by step photos to make Chocolate Rice Krispie Treats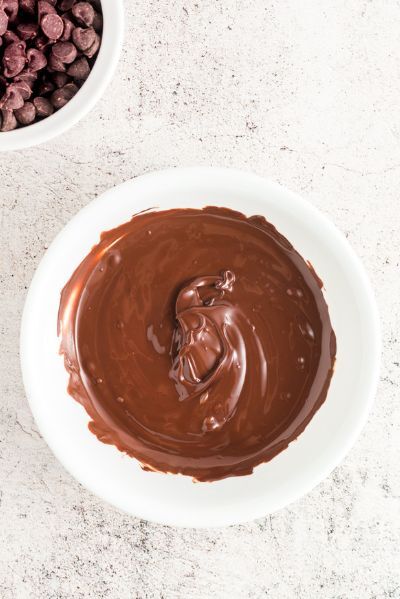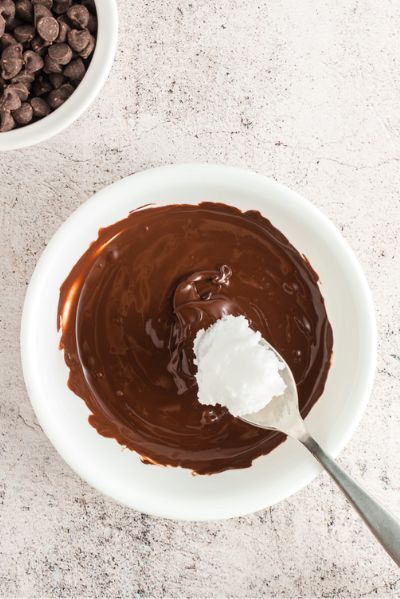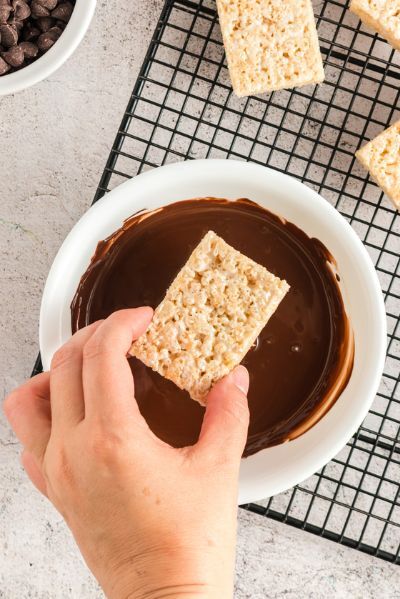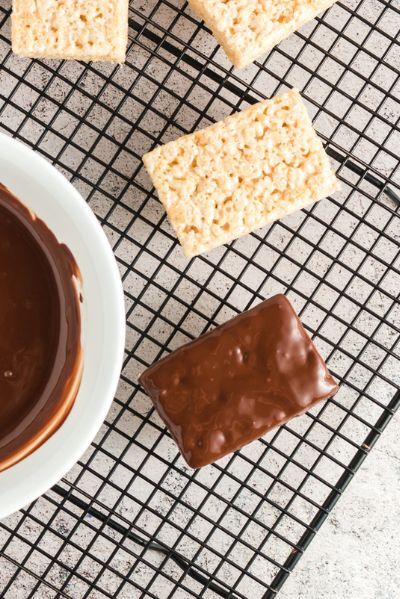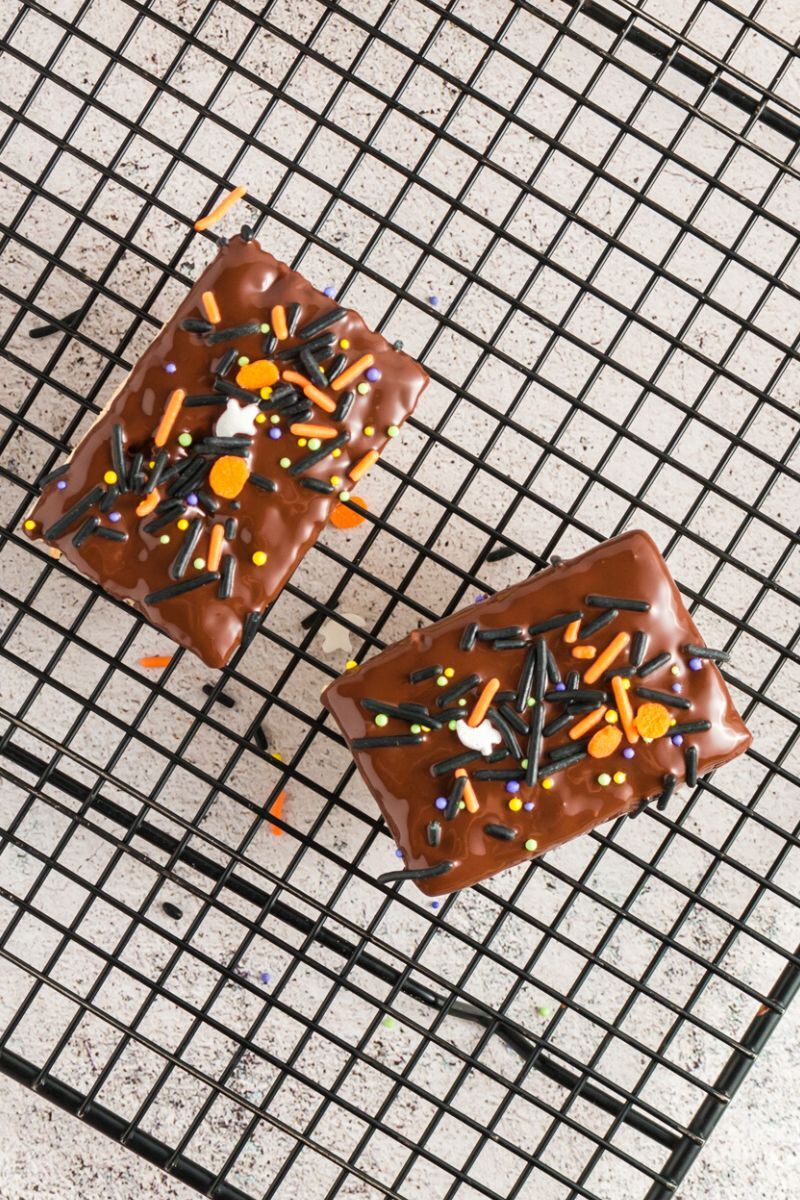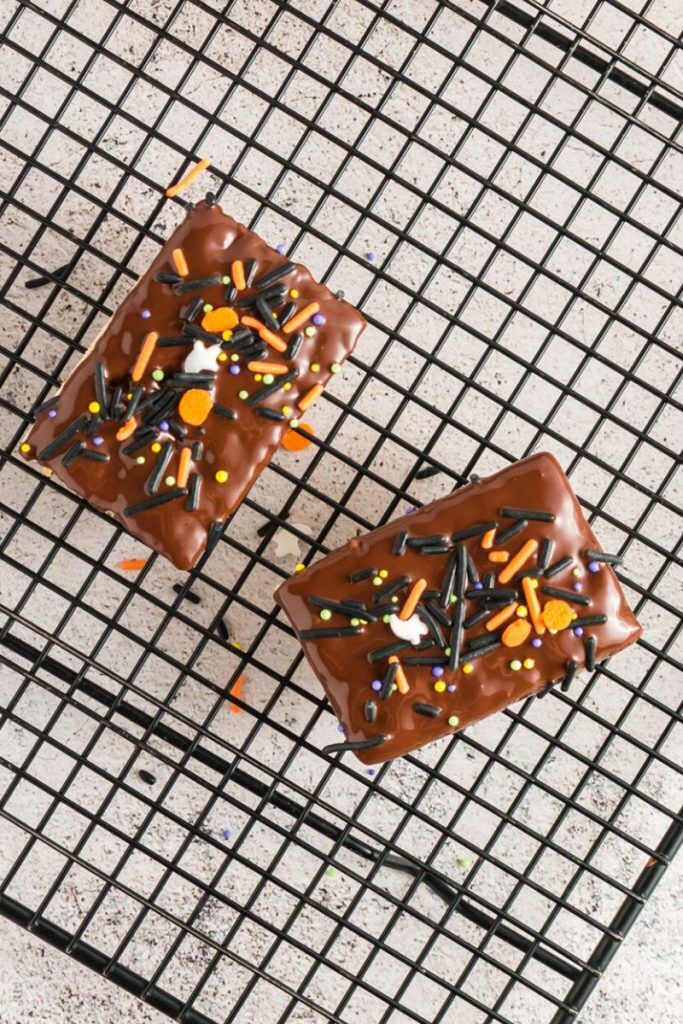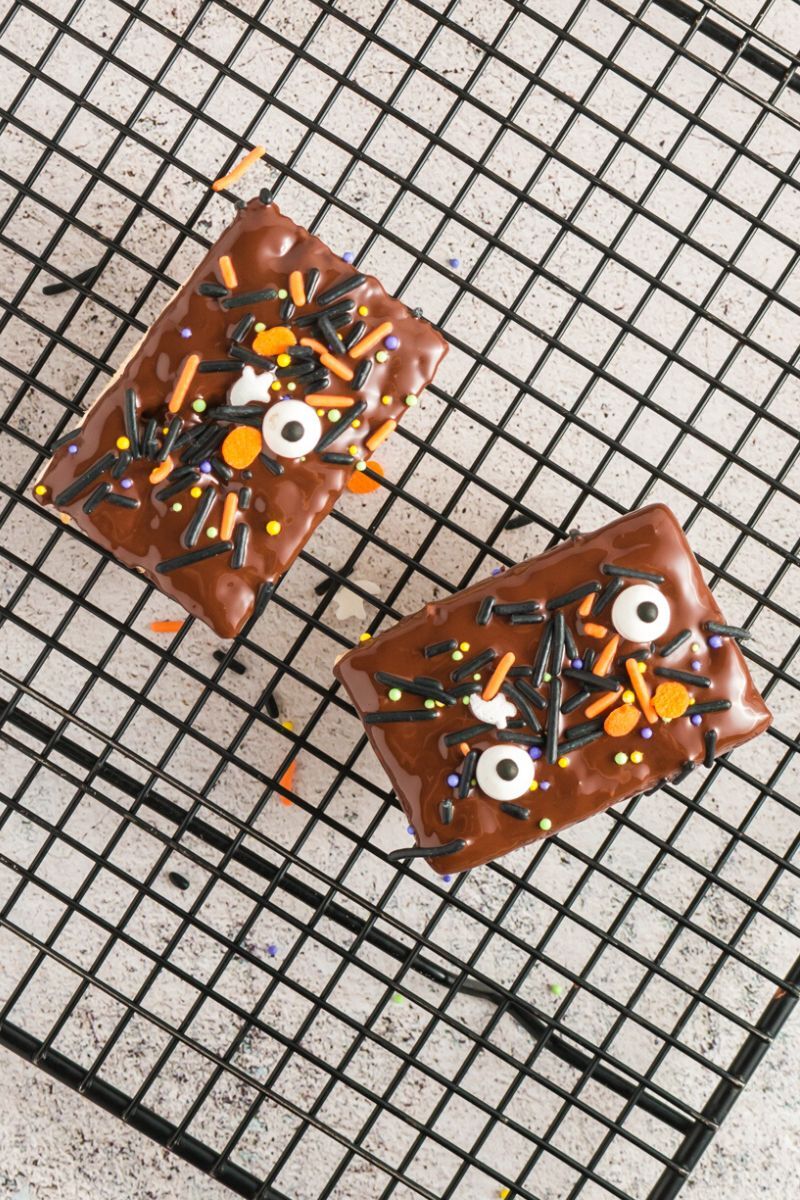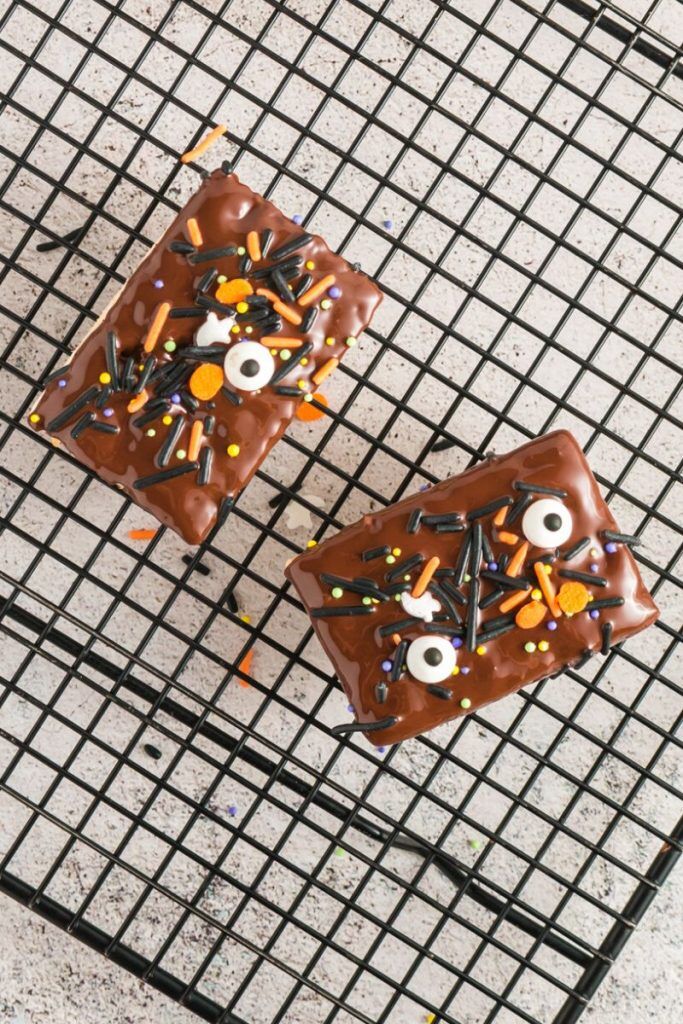 Tips and Tricks for Chocolate Rice Krispies:
Melting the Chocolate – To keep the chocolate from burning in the microwave, melt it in 30-second intervals, mixing in between each one. After about 1 minute, the chocolate chips will start to melt when you mix them. They may not look melted, but they actually are.
Dipping the Chocolate – People have asked if you can dip the entire Rice Krispie treat into the chocolate. Yes, you can but it is messy to eat – especially if you live somewhere warm. If giving these to kids, I would definitely recommend only dipping the top.
Gifting the Chocolate Rice Krispie Treat – There are several options here. If it is a class party or Halloween party at home, serve them on a tray in a single layer (don't stack them). If this is a gift, put it in a small cellophane bag with a black or orange tie. You could also stick a popsicle stick in it to make it a Rice Krispie pop.
Making Rice Krispie Treats from scratch – If you are going to use Rice Krispie treats that you made from scratch, be sure to press them extra hard into the pan so they hold together nicely. If not, they will fall apart when you try to dip them into the chocolate. Making them from scratch is fun too because you can try it with Cocoa Krispies, or mix in mini marshmallows and cocoa powder!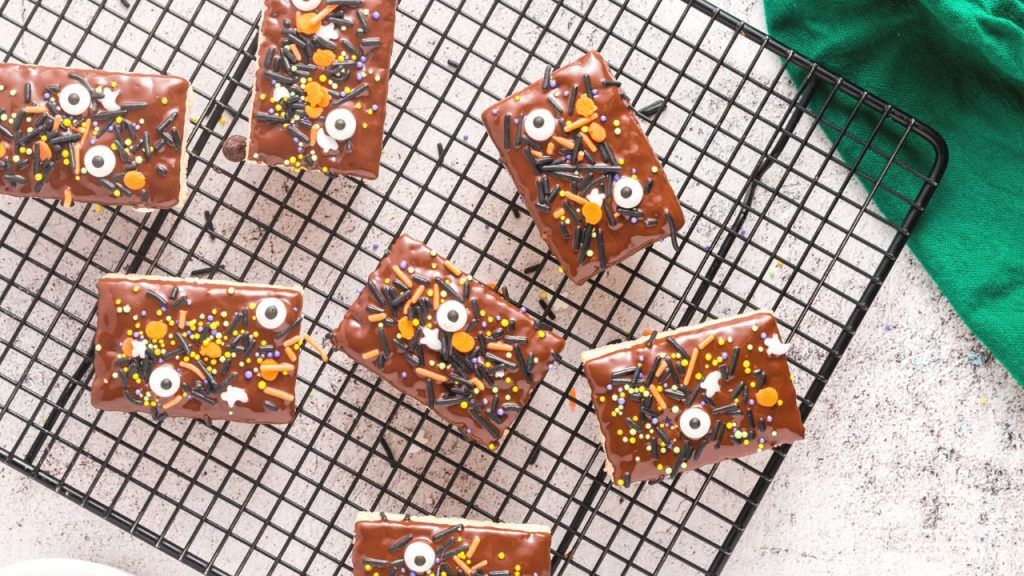 Frequently Asked Questions About Chocolate Rice Krispie Treats
What if I don't have coconut oil?
Coconut oil is not required. It makes the melted chocolate smoother and easier to dip but it is not necessary if you don't already have some at home.
Can you freeze Rice Krispie treats?
Technically you can freeze them but they won't be as soft and chewy once they defrost. If you aren't going to eat them in a day or two, I would recommend storing the chocolate rice krispie treats in an airtight container in the fridge. They taste best when consumed within 1-2 days.
Why do homemade Rice Krispie treats taste different?
Even though we are using premade rice krispie treats in this recipe, I still think homemade Rice Krispie treats taste a tiny bit better! It has to be the butter. Even if you use dairy free butter, there is a subtle butter flavor that matches the sweet marshmallows. Homemade Rice Krispie treats are also softer. That is why you need to press then down to compact them if you will be using homemade Rice Krispies treats in this recipe.
How do you make melted chocolate with cocoa powder?
It is easy to make chocolate with cocoa powder and it will work well in this recipe! Just mix 6 Tablespoons of cocoa powder with 2 tablespoons of fat. I like to use melted coconut oil but you could also use melted butter or oil. The chocolate Rice Krispie treats will still be just as amazing!
Are store bought Rice Krispie treats dairy free?
No, unfortuatley they are not. If you are looking for a dairy free option, you'll want to make them from scratch using dairy free butter. I do this alot and it tastes just as delicious! Check out our rice krispie treats recipe.
More Halloween Recipes You Might Enjoy: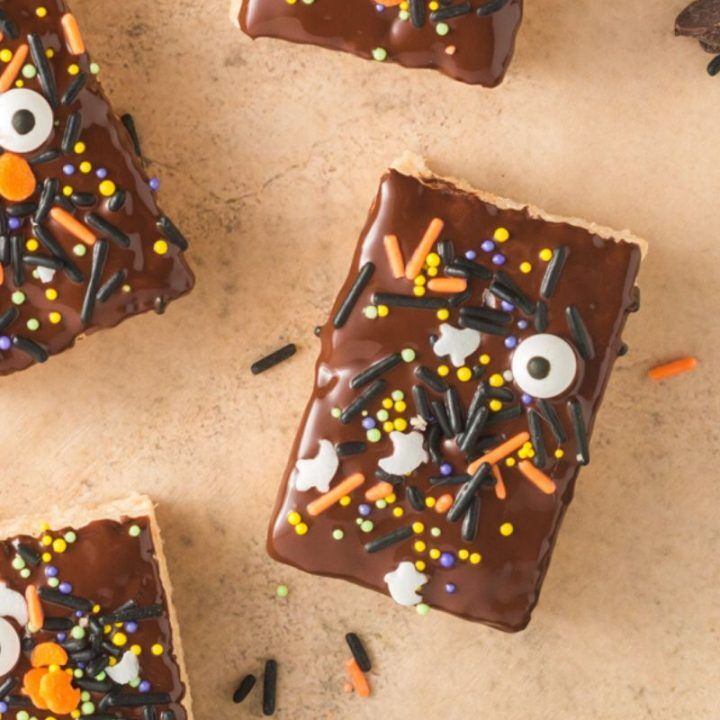 Halloween Chocolate Rice Krispie Treats
Additional Time:
20 minutes
These fun Halloween Chocolate Rice Krispie Treats are so fast and easy to make so you can whip them up anytime! Best of all, everyone loves them!
Ingredients
3/4 Cup Chocolate Chips, Dairy free ok
1 Tablespoon Coconut oil
8 Rice Krispie treats, premade
Sprinkles, candy eyeballs or other toppings
Instructions
Line a cookie sheet with parchment paper, or take out a cookie cooling rack
Add the chocolate chips to a microwave-safe bowl
Microwave the bowl of chocolate chips in 30-second intervals, stirring after every 30 seconds until the chocolate is completely melted
Mix the coconut oil into the melted chocolate until smooth
Dip one side of a Rice Krispie treat into the melted chocolate and place it on the parchment paper or cooling rack
Top with sprinkles, candy eyeballs or any other desired toppings
Repeat with each Rice Krispies square
Let cool completely or place in the fridge until the chocolate is hardened
By